At just 25 years old, Josh Weinberg co-founded a residential real estate company, Weinberg Choi Realty, with his partner and college friend Tommy Choi. The year was 2007. But despite launching during one of the worst economic downfalls in American history, Weinberg Choi succeeded and has since established a strong reputation in the industry.
So, how did two young businessmen successfully start a business during the collapse of the housing bubble?
Weinberg credits his role models. First, his mentor, who helped him build his business and offered sound advice. Weinberg recalls learning "It's easy to get caught up in trying to compare yourself to others, especially in a transparent industry." While other real estate firms may have exited the industry or shrunk their business, Weinberg found that the tough market conditions were an opportunity to grow.
Also, his parents' values also played an integral role, especially that of treating others well.
"That value hit home when entering the business world," Weinberg said. "Treating other people well was more important than the market conditions."
This selfless attitude helped Weinberg Choi earn the distinction of being top one percent of realtors by the Chicago Association of Realtors in 2013 -- one year after Weinberg was personally named to the inaugural Double Chai in the Chi: Chicago's Jewish 36 under 36 list.
In the several years since, Weinberg Choi has continued to grow as a leader in residential real estate, merging with Keller Williams Chicago-Lincoln Park and earning top one percent honors every year.
Among the business success, Weinberg has also found ways to give back to the community. The Weinberg Choi team created 365 Days of Giving, in which they pick a different organization to support each month of the year, inspiring their clients to learn about, get involved with and support these causes.
One of the most successful charitable acts the organization conducts is a golf outing for The Nora Project (run by another past 36 Under 36 honoree, Lauren Schrero Levy), which helps students teach empathy by fostering friendships with peers with disabilities. The first outing was in 2017 and 365 Days of Giving raised $20,000 -- double the amount of the target goal. This year they raised $30,000.
Part of Weinberg's motivation to give back is a result of his experience sharing in the achievement of being named to the first class of 36 Under 36. Meeting the 35 other like-minded Jewish young adults was confirming and inspiring.
"Being around others who shared the same mindset in giving back to others, it provided validation for growth to keep giving back," he said.
One of Weinberg's newer projects is to finalize a team to compete in the International Men's Jewish Slo-Pitch Softball Tournament, which annually brings teams from across the country and Canada to compete over Labor Day weekend, this year in Denver, Colorado.
Weinberg said he would compare his skill set to Hall of Fame shortstop and St. Louis Cardinals legend "The Wizard" Ozzie Smith. The Wizard's trademark on-field backflips will not be on-display, but expect Weinberg to embody Smith's scrappy play and penchant for hitting line drives.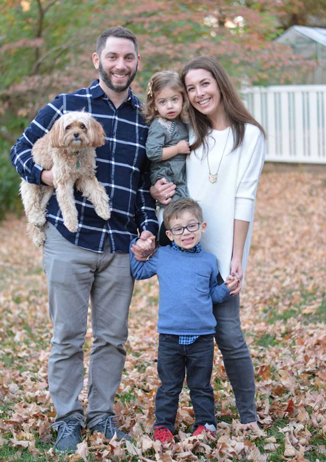 Weinberg currently lives in Lincoln Park with his wife, Arin, and their 4-and-half-year-old son and 2-year-old daughter.