I was still feeling a little hungry after a quick lunch with my cousin the other day so I went into Freshii looking for a snack. Inside, they were giving away samples of Ka-Pop Snacks, a healthy chip that actually tasted good. I met the founder, Dustin Finkel, and had to learn more about him and his company.
Finkel and his partner, Ryan Meczyk, met through a mutual acquaintance from Kellogg School of Management at Northwestern University and shared a vision for an innovative snack company, Ancient inGRAINed. And anyone who makes snacks -- is A Jew You Should Know.
1. What did you guys do before Ancient inGRAINed?
Dustin: I started my career in Investment Banking at Goldman Sachs, followed by 15-plus years of Consumer Packed Goods (CPG) experience. My food career began at General Mills where I worked on the Chex cereal brand and led the team in the transition to the first ever national gluten free product. From there, I took executive roles at Horizon Organic, Famous Brands, and Abbott Nutrition. From there, I founded MacGray, LLC specializing in providing leadership, strategy, marketing, financial, and valuation services to businesses primarily in the food space, as well as Private Equity groups looking to invest in the Food Space.
I have served as interim CEO & CMO, advisor, and board member to numerous natural foods companies. I also teach business classes to both the undergrad and graduate programs at The University of Colorado, Boulder.
Ryan: I'm the Founder and CEO of Norman Distribution. Under my leadership, Norman Distribution has grown into one of the most renowned full-service DSD Distributors in the CPG space within the Midwest region. Currently, we service over 2500 retail locations across multiple channels of trade and we're now launching a Las Vegas distribution center to increase our West Coast visibility.
In addition to being the Founder and CEO of Norman Distribution, I'm the CEO and president of Spearhead Holdings, LLC, a CPG accelerator that trades services for equity under the Norman banner. Over the past five years, Spearhead has partnered with entrepreneurs in the food space to assist in the concept and development of startup brands. With Spearhead's vast relationships along the supply chain, including manufacturers, bottlers, ingredient suppliers, marketing experts, retail connections, and other like-minded DSD distributors across the country, Spearhead is quickly becoming a respected launching pad for new CPG concepts and product innovation.
2. How did you move into the healthy snack business?
Dustin: After successfully running many multi-million-dollar companies, I saw the need for a good-for-you snack (not a "better-for-you" version of a snack). One night, a few friends and I gorged ourselves on "healthy chips" that were high in empty calories, bad fats, and crappy ingredients; the kicker -- they didn't even taste that great. Totally cliché, but I knew there had to be a better way! I realized that I could take the snacks everyone loves -- like chips -- and just make them with better ingredients. People want a healthy snack they can trust, with no crap, that tastes great -- it's that simple.
3. What drew you to sorghum (the main ingredient in Ka-Pop)?
Dustin: When I was thinking of creating a good-for-you snack, I was looking for an environmentally friendly, clean, unaltered ingredient that offered superior nutrition and benefits. I was inspired by the powerful properties of sorghum, which is also nature's first super food. Packed with Omega 3s, vitamins and minerals, sorghum is an excellent source of fiber. I was also drawn to sorghum because it's a sustainable crop, grown right here in the United States, and is yet another reason that is important to me -- to support local non-GMO agriculture and our economy.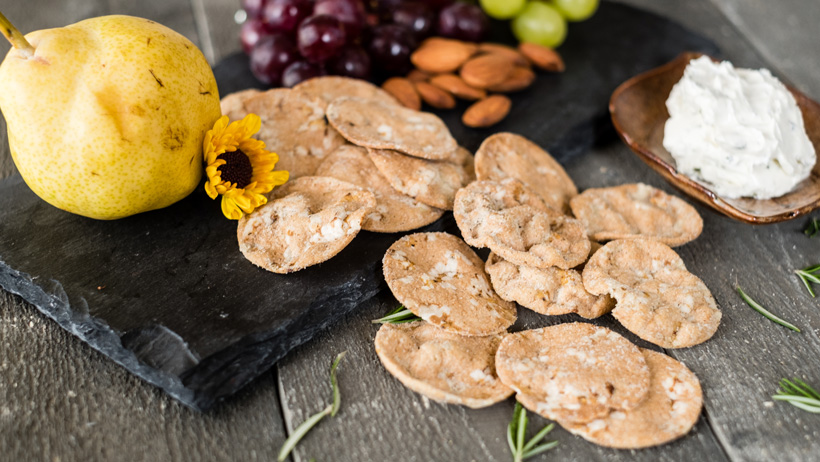 Rosemary garlic Ka-Pop chips.
4. What are some other healthy snacks you're into?
Dustin: I am an avid "treasure-seeker" of great natural snacks, so I often try a lot of different products. To me anything that is full of clean ingredients is something I will try. Lately, I am into the clean meat snacks that are out there, grain-free granolas (when I want to indulge), and I love nut-butters.
As a dad to young boys, I see the challenges it takes to make sure you set a good example with the food you eat. My goal is to always provide the right nutrition for my kids and family. I want my kids to have fun too, but definitely in moderation. I am so happy that we created a chip that tastes as good as one of those fake cheese sticks that my kids love.
5. How do you keep your kids eating healthy?
Dustin: I have both a 6- and 4-year-old. The only things they are allowed to eat are Ka-Pop! Chips -- just kidding. One of the reasons I launched these products is driven by the horrible choices that parents are stuck with for kid snacking. In addition, many schools and daycares do not allow any allergens, which makes it even more difficult. I wanted a product kids and parents would both love and be school friendly. While my 4-year-old enjoys everything, my 6-year-old is very picky and loves empty nutrition and carb-based snacks. I knew I had a winner when he devoured our early test runs. My wife Christina and I are always striving for a balanced meal full of nutrients and clean sources of protein. But let's be honest, they are kids and kids will have a tendency to only eat what they want. My best advice for parents out there is balance!
6. You both eat healthy, what do guys bench? Just kidding -- what does your workout look like?
Dustin: I am a CrossFit fanatic and a Level One Certified Cross Fit Trainer and nutrition counselor. I believe that a good workout is cornerstone to a good day. If you really want to know, I can bench 300 pounds, which is the equivalent to 1,500 bags or 123 cases of Ka-Pop! Chips! In all seriousness, I work out everyday -- my workouts are a mix of CrossFit, running, yoga (sometimes), and sports (I love sports!). Additionally, I have tried every type of food diet/trend/fad out there -- for both education and awareness levels to further my understanding and knowledge.
Ryan: Dustin being a 6-foot, 6-inch athletic-built machine, it's hard to compete with his benching accolades even though I'd like to verify those lifting stats! Being a little less than a foot shorter than him, I can still bench all of Dustin's weight (literally) -- well depending on how much he weighs! My workout remains constant with a 6-7 day/week regimen. I primarily lift weights for 45-50 minutes and work in both cardio and core 2-3 days per week. While I enjoy eating good food on the weekends, I stick to a very lean diet of protein, vegetables, and ancient grains throughout the week.
7. What's next for Ancient inGRAINed?
Dustin: We thrive on innovation and we create products that are made with ancient grains, because they are good-for-you and good-for-the-Earth. At Ancient inGRAINed, we are thrilled to bring FUN back to healthy snacking and we are always looking at ways to make snacking both delicious and fun. Our goal is to take the treats and snacks everyone loves and just use great tasting nutritious ingredients. Be on the lookout for more variety of flavors of Ka-Pop! Chips and other snacks that people love that need an ingredient and health rejuvenation.
8. How does being Jewish influence your work and/or life?
Dustin: I am proud of my Jewish heritage and love that the kosher certification is one of the most important food-based inclusions in the market today. It demonstrates a commitment to quality and production processes. In addition, I am proud of the Jewish community and happy that I can produce products that meet even the strictest of kosher standards, while still being incredibly delicious and nutritious.
Ryan: Being Jewish is very important to me. My grandparents were both Holocaust survivors, and my Bubbee helped raise me as both of my parents worked while I was growing up. Besides the invaluable lessons I've learned from my Bubbee and my parents, being Jewish has a cultural importance to me. Besides the small community of people, my individual relationships, and the common traditions we each share in, it's a way of life and I'm appreciative of my roots.