I'm thrilled to introduce you to a couple of "Jews You Should Know." Why? They happen to be Jews I know and love already, my first cousins, Ashley and Scott Portman.
The Portmans just launched a mom-and-pop business venture full of heart and humor -- with gift-wrapping panache to boot. Say hello to Chai Five Blankets, the baby gift that brings Jewish joy all year round. They just launched it -- amidst busy day jobs, taking care of two kids, making time to kibitz with their family and friends -- and they look forward to adding their unique oomph to traditional Jewish baby keepsakes.
Both Scott and Ashley were raised in the burbs on the North Shore (Buffalo Grove and Northbrook) and they started their family in Lakeview. The Portman crew consists of the impossibly adorable twins Sloane and Lincoln and a happy, scrappy pup named Chester.
If you're on the prowl for the perfect present to celebrate a newborn simcha, Ashley and Scott have you covered. Learn more about Scott and Ashley, their new adventure and more below.
1. How did you decide to get started with Chai Five? What was the inspiration?
When your nearly 2.5-year-old twins still don't sleep, you are up many nights passing your sleep-deprived time on Facebook, Instagram and blogs. We came across many parents posting about their children reaching a certain age milestone or celebrating holidays like St. Patrick's Day and Thanksgiving, but no one was highlighting important Jewish holidays which we know are being celebrated. So, we decided to fill in that gap with the creation of our tradition ...tradition photography blanket. Cue the song from Fiddler on the Roof.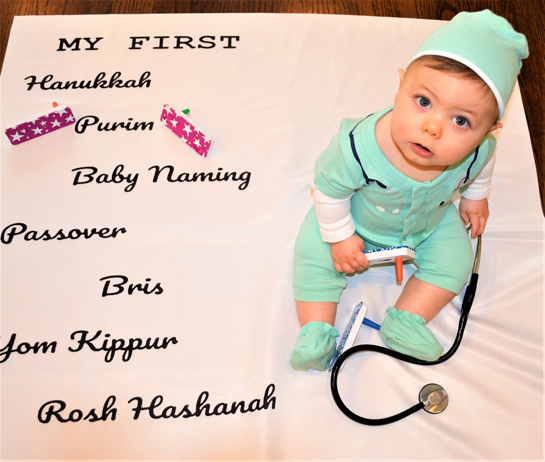 2. What are you looking forward to most about growing a business with your family?
Diapers, Jewish preschool and activities are expensive! While we are not quitting our day jobs as an attorney and an automotive parts rebuilder, certainly having some extra gelt in our pockets would be nice for our children. Also, we hope to inspire our kids to make the most of every second of the day and to chase their dreams.
3. Ashley is a JUF jBaby Ambassador. How did you get involved, and what do you enjoy about being a part of the community?
I was introduced to jBaby when I did a playgroup with my children when they were just 3 months old. I immediately felt connected to meeting other young families who were all just stepping into the adventure of parenthood. My love for the program grew while doing "jBaby Sings" led by Ben Tatar and watching our whole family laugh and enjoy songs from "Wheels on the Bus" to "Bim Bam." I was so fortunate that the jBaby program was looking to add parent ambassadors at the same time I was looking to get more involved. The families and the kids we have met through the program have been so warm, friendly and down to earth.
4. What's some advice you have on raising nice Jewish kids in the city?
Even though they are young, we teach our children about the importance of tzedakah by filling up our tzedakah box together. Also, by being kind to those you meet, your children will start to emulate your actions. Our kids thank strangers who open doors for our massive double wide stroller and say hello to people who walk by on the street because they learned those behaviors from us. They aren't getting Nobel peace prizes, but being kind is a start and we will take it!
5. Chai Five blankets celebrate the major Jewish milestones of a baby's first year. What is a great memory that leaps to mind from the twins' first year of Jewish celebrations?
We are not sure if "great" is the way to describe a bris, but certainly watching our son experience such an important tradition when only a few days old, surrounded by family and friends, was a moving moment. The snip went perfectly and we are sure our son will forever be grateful to Dr. Shulman, our mohel. Also, celebrating our daughter's baby naming at temple Beth Shalom, in Northbrook, where Ashley had her bat mitzvah, was a beautiful day for our family. Certainly, that was a lot less stressful than the bris!
6. What's something you've already learned with starting your own business?
To stay positive and to keep our fingers crossed that we get some "chai fives" from our local community members and leaders.
7. What are some favorite Jewish traditions you're excited to share with your kids?
Challah, matzah balls and latkes! On a more serious note, though, to pass on the traditions and conservative Jewish values that we were both lucky enough to have experienced growing up. Oh, and did we mention challah?!
8. Fill in the blank: Chai Five blankets are perfect for…
You! Yes, you! If you are reading this you probably know a Jewish baby or newborn. We know you just paused and confirmed that you do! So, check us out on Instagram @chaifiveblankets; on Facebook at Chai Five Blankets or our website today www.chaifiveblankets.com.
Also, we are starting a social media campaign called #showusyourchai. People can use the hashtag #chaifiveblankets to highlight any chai or #18 they may stumble on in their everyday lives, to remind people that signs of good luck and a beautiful life are hidden everywhere.