When Highland Park native Brian Finkel arrived in Israel after making aliyah, he discovered a food product that not only changed his culinary life, but also his professional one.
"I'm super excited to bring a taste of my new home to my old home," said Finkel, 31, who now lives in Jerusalem.
Finkel was working in finance and consulting in New York City when he made the choice to move to Israel and telecommute to work instead. Eventually, he realized it was time to transition into something new. After a year in sales and business development in Israel's high-tech scene, his eureka moment hit him like a ton of dates.
Not long after making aliyah, Finkel had discovered date nectar -- silan, in Hebrew -- and became infatuated with it. He used it to sweeten his coffee, tea and morning yogurt; he even used it in a chicken marinade and in salad dressing.
"I was like, wait a minute, I'm using this stuff all the time. Israelis love this stuff. But, I don't remember ever having it in the U.S.," Finkel said.
His first phone call to share his sudden insight was to his good friend David Czinn, 30, who Finkel had met during a gap-year in Israel between high school and college. During that year, Finkel and Czinn bonded over their love of Israel's wineries and restaurants, and they stayed close after Finkel went off to study at the University of Pennsylvania and Czinn went to the University of Maryland.
After college, Czinn moved to Los Angeles and co-founded Fruigees, which specializes in fruit and veggie-filled squeeze packs. Czinn wasn't familiar with date nectar, but thought it would be a hit in America. And he just so happened to live near the date capital of North America -- Southern California.
According to Finkel, the dry, hot climate is very similar to parts of the Middle East where dates grow, like the Jordan Valley and the Aravah region. The two began sourcing and bottling their date nectar from California.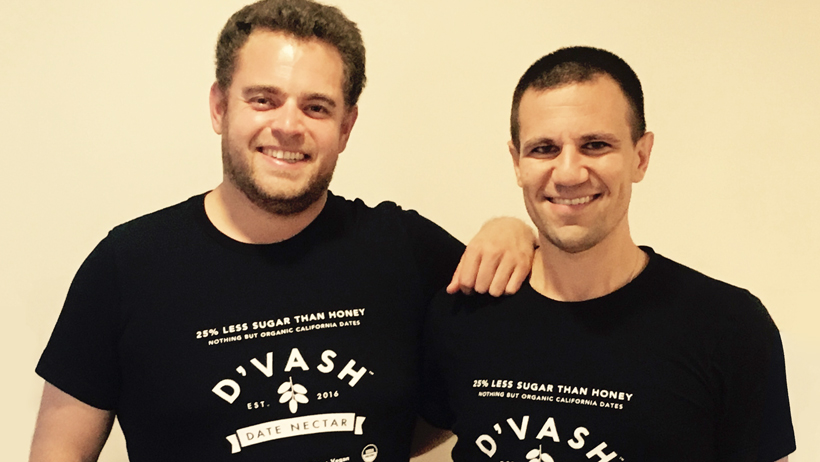 From left: David Czinn and Brian Finkel
As for their company name, Finkel recalls, "I was at my in-laws synagogue on Rosh Hashanah. And, they have this special ark covering that they bring out during the High Holidays. And, it shows all the seven species of Israel." The Torah mentions seven species of Israel that, according to "My Jewish Learning," were the staple foods consumed by the Jewish people in Israel during biblical times. One of those "species" is d'vash, or "honey" in Hebrew. Finkel expected the covering to depict bee honey, but he saw a date palm instead.
Though Israel is known as the land of milk and honey, Finkel learned from his research that many historians believe honey, in this case, refers to the nectar of dates. "Even though [our product is] very much an American product, it's very much inspired by Israel and the history here in the land and the experience here," he said.
Finkel and Czinn launched D'Vash Organics on Valentine's Day 2017. Their product, which can be found at U.S. retailers like Whole Foods Market and Thrive Market, is made from 100% USDA Organic dates and is gluten-free, paleo compliant, vegan, and Non-GMO Project verified. Finkel, who keeps kosher, is currently working to have D'Vash Organics kosher certified.
Finkel says Israelis living in the States are the ones most excited about this business.
"They're the ones who already love this product," he said. "They were shocked to find out that they don't have this stuff in America."
And, we Americans, couldn't be happier date nectar is making its sweet debut.
If you're thinking of giving D'Vash date nectar a try, here's a recipe idea to get you started: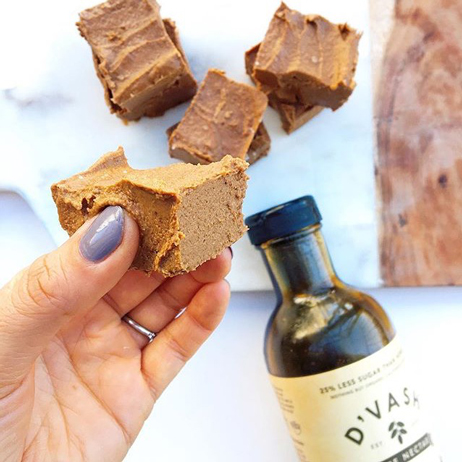 Cacao Pumpkin Fudge
Ingredients
1 cup organic pumpkin purée
1/2 cup almond flour
1/2 cup coconut flour
2 heaping tbsp @dvashorganics date nectar
1 tbsp coconut oil
1 tsbp coconut butter
1/4 cup almond butter
About 1 cup of cashew milk (add slowly -- texture should about same consistency of brownie batter)
1/4 cup cacao powder
Himalayan pink salt
@primalpalate pumpkin pie spice
Directions
Mix well in blender and pour onto parchment paper in a loaf pan
Freeze for about an hour or more
Enjoy!