It's only been a year since Kevin Friduss was named to the Double Chai in the Chi: Chicago's Jewish 36 Under 36 list, and he's already added buying a house, having a baby girl named Lucy (12 weeks old) and a promotion to his resume; not to mention the Chicago Cubs won the World Series.
Since the biggest "W" flag of all time was flown above Wrigley Field, Friduss advanced from the promotions coordinator to the promotions manager at CBS Radio Chicago where he overseas promotions involving the Chicago Bears and Chicago Cubs radio networks, WBBM Newsradio and 670 The Score.
Friduss' job involves coordinating logistics for events and promotions of Cubs, Bears and University of Illinois football and basketball broadcasts. His team plans and promotes events such as the WBBM Newsradio Good Neighbor Radiothon during the Holiday season, WBBM's Tailgate Throwdown and various Cubs and Bears talk broadcasts and appearances at Wrigley Field and Soldier Field.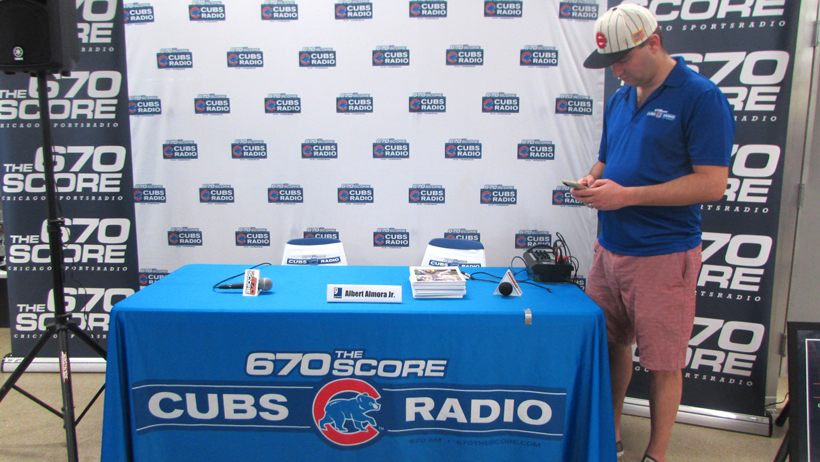 Kevin prepares for a Cubs Radio event with Cubs outfielder Albert Almora Jr.
Right now, Friduss is in the midst of the busiest part of his job the final stretch of the Cubs' season and beginning of the Bears' season, but he's not alone; he has a team of 20 employees helping him out, whom he's responsible for hiring, scheduling and training.
"I think that's almost the hardest part about the entire job," Friduss said. "When you're in radio marketing it [logistics] kind of comes naturally to you and that's great, but being the HR director and having to manage all those people -- that's the hardest part of the job. But it's all a great experience."
All that hard work pays off, however, when the event finally arrives, which is not surprisingly Friduss' favorite part of his job.
"My favorite part of the job is the day of the event when we know that we've done every possible thing that we could do to make the event great," he said, "and actually be on site and seeing the activation go off without a hitch."
Friduss also loves being around sports, which he says he appreciates because of the camaraderie it brings out in people. That togetherness seems to be a theme in his life, as Friduss continues to volunteer his time as an advisor for BBYO.
Friduss got his start in BBYO not as a teen participant, but by tagging along with friends to a BBYO alumni event. That's where he met his wife, Stacy, and he has been involved in BBYO ever since. This upcoming school year, he'll be a regional BBYO advisor, helping out with all the chapters and conventions.
In just one year, Friduss has a lot more to be proud of than being a Double Chai in the Chi honoree, but he remains grateful for the honor.
"I'm not really one to expect awards; for my peers to nominate me and for me to get an award like that … it was such a huge honor, more than any other honor that I've ever received," he said. "It made me want to give more to the community and made me feel really special."
Meet the newest class of "36 Under 36" at YLD's WYLD party from 7-10 p.m. Thursday, Aug. 10 at Old Crow River North, 149 W. Kinzie St. Cost is $20 in advance, $30 at the door (space permitting). To register, or for more information, visit www.juf.org/WYLD.