Annie Warshaw, CEO and co-founder of Mission Propelle (formerly known as Smarty Pants Yoga) has been hard at work since being named one of 2014's Double Chai in the Chi.
Over the last three years, Mission Propelle has grown into a city-wide movement of acceptance, leadership and empowerment programming that combines yoga and guided storytelling to teach young girls (grades K-5) how to cultivate their voices. Each Mission Propelle class encourages girls to "take up space," make noise, lead with their voices and workout their joys and frustrations through yoga.
"Yoga is a non-competitive, accessible sport to everyone, no matter their socio-economic status," Warshaw explains. It promotes confidence, self-awareness and community.
Through the stories read in Mission Propelle classes, girls learn how to face everyday challenges as problem-solvers, "then they talk about the lesson and experience that feeling in their body through yoga."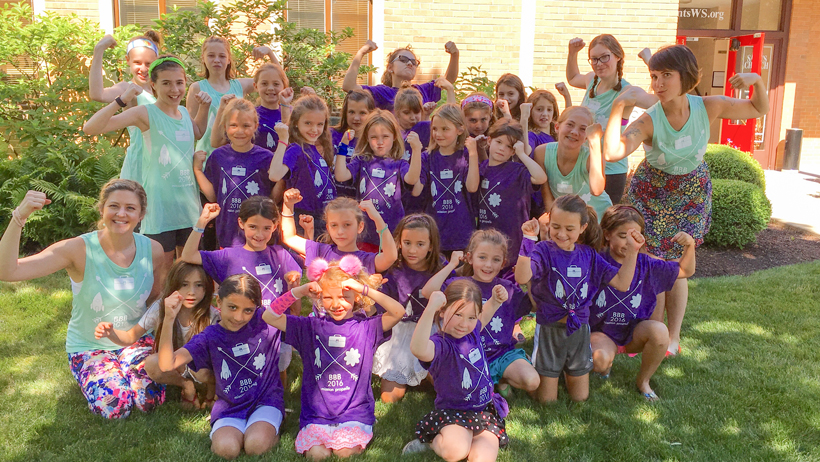 To date, Warshaw and her team have reached over 3,000 girls at 110 local schools.
While Mission Propelle is primarily offered in public schools, the fun doesn't stop when school lets out for the summer. Through Mission Propelle's Blooming Bosses Bootcamp, young girls learn the skills to start their own business while having fun.
"I wanted to create a space where girls could explore and not be competitive with boys; and create community while creating the entrepreneurial spirit," Warshaw said. "So we launched camp three summers ago. It's like my favorite thing that we do… In the mornings we do Mission Propelle -- so we do reading and yoga -- and in the afternoons, the girls build a business plan and then on the Friday of camp they launch their business."
In the past, girls have explored their entrepreneurial potential as "lemonade-stand tycoons" and carnival game inventors. Camp curriculum includes identifying suppliers, developing brand identity and meeting with "Chicago-area female entrepreneurs" -- all helping the girls to learn what it takes to be successful in life and in the marketplace.
In addition to their core programming, Mission Propelle is now a registered children's yoga school. Over the summer, they will launch a learning retreat at Starved Rock where aspiring children's yoga teachers can learn about children's yoga, sample gourmet vegetarian food, hike, experience fun workshops and become certified children's yoga instructors. Additional summer programming will also include workshops for parents of kids ages 0-5 on topics like yoga for naptime, yoga for digestion, and at-home mommy-and-me yoga.
"The best part of my job is making an impact and having the power of community and influence," Warshaw says. "Especially in this current political climate, we just feel even more motivated to give girls the voice to make change … We're not as far as you think."
Warshaw said there are still a lot of people out there who think that we don't need programming for girls, but there's still so much work to be done.
"For me, one of the things that ties me very much to being Jewish is community and social justice," she said. "I think Mission Propelle fits into that perfectly. This is my little piece of Tikkun Olam."
Since being named one of Oy!Chicago's 36 Under 36, Warshaw also joined the Pulaski local school counsel as vice chair, received Chicago Foundation for Women's 2016 Pioneer Award, and become a mother. Her three-month-old son, Grant, has all the makings of a future yogi, mover and shaker.
Learn more about Mission Propelle at https://missionpropelle.com.
Interested in becoming a children's Yoga teacher? Register for Mission Propelle's 95-Hour Children's Yoga Teacher Training Retreat July 11-20 at Starved Rock State Park.