The desperation of wanting so badly to find someone to love who will love you in return is a feeling most Jewish young adults are familiar with. Unless you married your high school sweetheart, you've probably experienced that longing -- and the accompanying side order of self-doubt and familial pressure.
That eagerness to find a partner plays out in exaggerated but poignant fashion in the Israeli movie The Wedding Plan, which despite its Hollywood-esque rom-com English language title is much more of a dramatic indie comedy. We all know someone (or have ourselves been) like main character Michal, a Jewish woman in her mid-30s hoping -- if not praying -- to find love. Only Michal is Orthodox, meaning she's well behind her peers and the pressure is mounting inside and out. So when her fiancé breaks up with her a month before the wedding, she decides to keep her date and venue, trusting that God will provide her with a husband.
The film is the second female-centric feature film about marriage in observant Jewish communities from writer/director Rama Burshtein (2012's acclaimed Fill the Void, which won seven Ophir awards including Best Picture from the Israeli Film Academy), and you can sense her intimate emotional knowledge of this subject in The Wedding Plan. Michal's quest to find a husband feels as such -- a quest -- full of emotional highs and lows from awkward blind dates to family drama to chance encounters.
Throughout this rigmarole, it's quite effortless to connect with Michal thanks to an excellent script and a remarkable star performance. The opening scene when Michal visits a matchmaker who pushes her to be honest about why she has come and what she wants cuts right to the character's emotional core and puts Koler's feet immediately to the fire.
Burshtein demands an incredible amount of her leading lady -- dramatic chops, immense vulnerability, comedic timing and romantic chemistry. And that's just the script -- she also likes to keep her camera up close on her characters, meaning every facial movement counts. No matter the instance or the camera distance, Koler rises to the occasion, every time. It is a powerhouse performance by any standard, let alone deserving of its Ophir award for Best Actress.
Those of us outside of Orthodox Jewish communities tend to associate that level of traditional observance with being stiff and old-fashioned, but Burshtein's portrait of Michal, her sister, mother, friends and the men in their lives is decisively contemporary and not at all insular. The voice she lends to Orthodox women -- who have too few artists authentically telling their stories -- is invaluable, and yet The Wedding Plan is no less accessible or relatable to anyone of any background.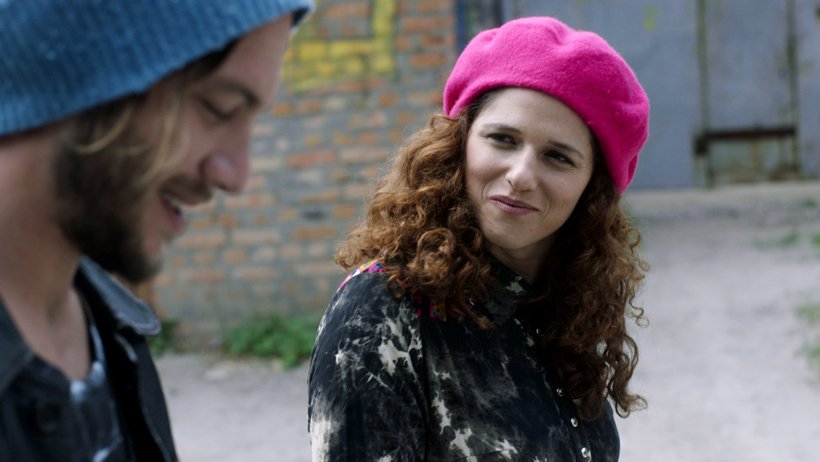 Oz Zehavi and Noa Koler. (Photo courtesy Roadside Attractions)
It helps that The Wedding Plan has a spirit and quirkiness that Western audiences will respond to. Michal works as the owner/operator of a mobile petting zoo; she is both a bubbly optimist and an unapologetic cynic; other women suggest what she must do and how she must behave; and she is surrounded by a sea of contradictions in the form of others' behavior and relationships. Burshtein has an acute wit that always serves a larger purpose. Nothing is done just to be funny for humor's sake.
Romantic clichés are also absent from this movie, though Burshtein's greatest challenge is resolving the inevitable answer to "will or won't Michal find a husband by her wedding date?" (and if the answer is "yes," who it will be). There are only so many outcomes, and most movies with this kind of setup conclude with a fairytale flourish, but after watching the first 90 percent of the movie, you realize there's no way Burshtein will go that route. Nevertheless, she must make the ending (and all parts that fight against rom-com conventions) believable and satisfying; whether she does is likely to be the greatest subject of debate among the film's viewers. 
Fortunately, it's the only aspect worthy of debate, as her film is otherwise delightful and thought-provoking with a performance that alone makes it worth the watch. You might even find your current or past yearning for love validated along the way.
"The Wedding Plan" opens May 19 in Chicago, Highland Park, Evanston and Lincolnshire.