Chicago is experiencing a bit of a heat wave/heat warning, with heat index values reaching between 105 to 115 degrees. But do you remember when those same heat index values were wind chill values?
If you were wondering, "Climate of Illinois" is its own Wikipedia page. And another interesting fact: the coldest temperature comes to you by way of Rochelle, Illinois in January at a mere -37 degrees -- no big. So when there's a heat wave in Chicago, there's an equally as severe and destructive cold wave on the other side of the year. So I say bring on the heat!
Chicago summers are a bit of a unicorn in the Chicago weather spectrum. It's no secret that I think Chicago is the greatest city in the world -- yes, not just the Midwest, the world. And I mean, I've seen places. But, my case is made much easier when I paint the picture of "The Chicago Summer."
It's a treasure. It's a beautiful memory; one that you keep safe in a safe and revisit during the treacherous icebergs of Lake Michigan this upcoming winter. Some people say they prefer cold to warmth. I say we'll see what you say when we're "Back To December."
Just look around: the stress-free UV rays of the sun, the lush greenery -- Chicago looks like a different city in the summer and we, Chicagoans, really know how to take it in. It's the little things in life. I think in that way, Chicagoans are the most appreciative people of the Midwest, and maybe the world. (Bold statements for extreme measures.) When you live in a place where the weather is bipolar and it rains, hails, and is perfectly sunny in the span of 10 minutes, you really learn to bask in the glory of the sun, even at limited increments.
Guys, this won't last past September. We all know that. That means we have another month and a half, at most, to squeeze what we can out of the Chicago summer. So here are some things I recommend doing this summer:
Rooftop Shabbat Dinner
Two of my best friends and I hosted a Shabbat dinner -- on a patio -- on a perfect summer Friday afternoon. If you have outdoor space, take advantage! Outdoor space is prime real estate in any big city. When that space can be leveraged to cap off the week with close friends, it's especially worth it!
Brunch Outside
I love brunch just as much (maybe more) as I love sun. Find a place with a patio. You can eat your favorite omelet, pancakes, or breakfast sandwich whilst getting color; there are not many greater pleasures in life than enjoying both at the same time.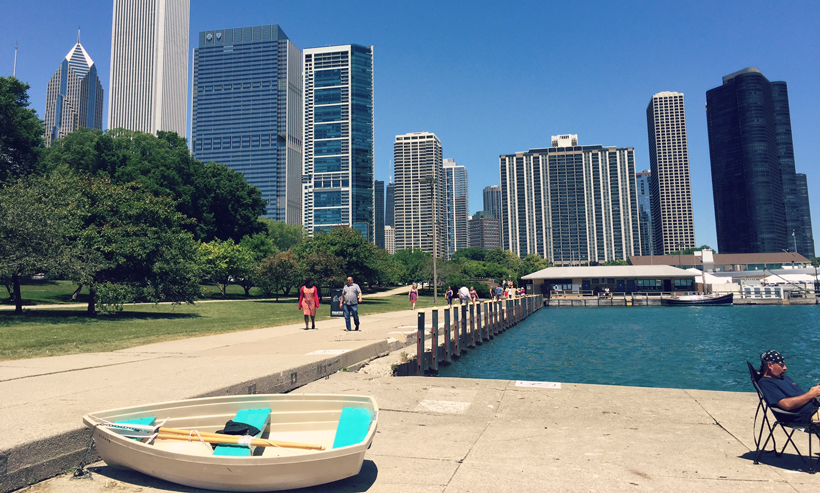 Take a Run During Lunch
This one is relatively new to me. Not just because regular exercise is new (it is, if I'm being honest), but also because it's the best stress/energy release smack-dab in the middle of your workday.
Jazzin' at the Shedd
Look at the skyline from the South; it's absolutely breathtaking. "Jazzin' at the Shedd" lets you drink it all in every Wednesday at 5 p.m. through Sep. 14, and tickets are reasonable. Sometimes beautiful days turn into beautiful nights and we need to take advantage. That view, that music, and the Shedd -- I'm telling you the experience is beyond worth it. Dance, relax, and take pictures -- take lots of pictures.
Boating
It's a summer must. If you can do it, DO IT! I happen to be going on a boat this evening and let me tell you, that skyline looks its absolute best from sidelines of Lake Michigan. This city is a beauty, AND it sits on a lake (I think that means no sharks). So take advantage of the full environment whenever possible.
Pool Parties
This depends on who you know, or, if you live in a high-rise with roof-top pool access, then you know yourself, so you're all set. But seriously, go to a roof-top pool party this summer. Even if it's just one time, relish in the sun and take in the beautiful skyline. Although crowded, pool parties are a great place to unwind, get some color, and connect new and old friends.
--
I think this season is one to treasure (and not just because I have a summer birthday). Enjoy the city, enjoy your friends, and most importantly, enjoy yourself. And remember, Vitamin D is necessary and has a lot of upside -- like a lot -- so take advantage of our natural solar supply.