It's not every day I get to see the most influential Jew I've never met. In my case, that day was Sunday, June 12, 2016 when Mel Brooks came to Chicago to watch Blazing Saddles with me and have a nice hour-long chat.
Okay, so maybe he wasn't there specifically for me, but I mean, we were in the same place at the same time for the same reason. The only difference was he was on the stage and I was looking at the stage. So he was there for me.
What we were both there for was a show aptly named, Mel Brooks: Back in the Saddle. The evening started off with a showing of arguably the funniest movie of all time, Blazing Saddles, followed by a live conversation with the man himself. Now seeing the movie in a packed Chicago Theater was amazing enough, but we all know what we really came for:The aforementioned man himself; the man that knows full well that "It's good to be the king." So after the 93-minute brilliance that is Blazing Saddles, the moment happened. Mel Brooks was introduced and then Mel Brooks walked on stage.
A standing ovation allowed me to communicate, in some loud way, my gratitude. I was in the same place as Mel Brooks. A man who arguably has shaped me more than anyone else I've never personally known; a man who has instilled in me a sense of humor that has influenced me in more ways than I can count, mostly because I can only count one way. I'm pretty sure when Mel Brooks came out onto that stage someone must have been cutting onions nearby.
What immediately impressed me was that Brooks, while being almost 90 years old, is as vibrant and energetic as a man half his age. More like a man half, half his age. In fact, he's exactly how I'd always imagined him to be. Funny, kooky and with a sense of humor out the wazoo, which is actually where the sense of humor comes out of.
When he first came on stage, instead of sitting and being interviewed by the moderator, he remained standing, talking and kvelling about so many interesting life experiences without needing to be asked questions. He wanted to be there. He loved to be there. We all loved having him there. Someone stop with the onions!
He regaled us with stories of some of the biggest celebrities from his movies. Actually, he didn't talk about much Mongo … but he did talk about the hilarious Harvey Korman, the clever Clevon Little, the genius Gene Wilder, the marvelous Madeline Kahn and - unknown to most people under 60 years old -- the side-splitting Sid Caesar.
After what was always going to be too short a time, the show was over, but the memories were not. For you see, on the way out of the theater, in the Chicago Theater alleyway, I joined the many fans lining up against a barricade waiting for one last glimpse of Mel Brooks as he rushed from the stage door to his car door. After what felt like a lifetime (some would call it about 12 minutes), he finally exited the theater. But instead of rushing to the car, he rushed to his fans.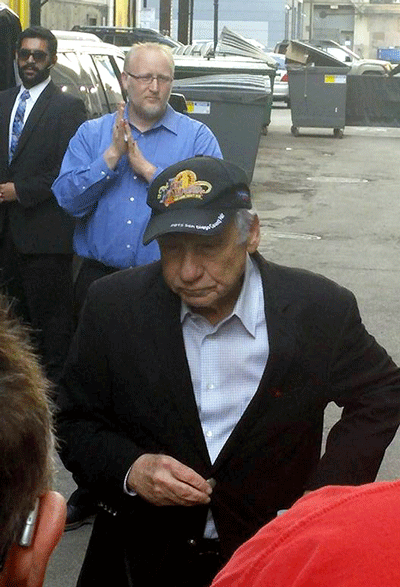 As he approached the barrier, you could see and feel the gratitude -- from the fans thanking him for everything to Mel Brooks thanking everyone for thanking him. He signed autographs and shook hands. I was closer to Mel Brooks than I had ever been in my entire life, within inches. Technically, I've always been within inches of him, it just had always been a lot more inches. I did not get his autograph or shake his hand, but it didn't matter. He is still the greatest man I've never met, but now I've been in his direct presence, closer than I have ever been or ever expect to be for the rest of my life and that alone is worth everything.
I mentioned this a few years ago, but growing up, my life, my way of being and my sense of humor were shaped by Brooks and everything he's done. When I was younger, I was obsessed with Spaceballs. I once watched it 13 times in six days. I call that stretch "Memorial Day Weekend 2016." In college, I dressed up as the honorable Governor William J. Lepetomane for Halloween, complete with suit jacket that had the word "GOV" in big letters draped across the shoulders. I even wrote my first major play based on a throwaway joke from History of the World: Part 1: When they see Oedipus on the street and say, "Hey, Mother F*****!" This line alone inspired me to write a comedic version of Oedipus Rex appropriately yet vulgarly titled "Mother F*****: The Story of Oedipus." I'm so clever.
So there you have it folks. That was my evening with Mel Brooks. It's why June 12, 2016 will go down as a day of great significance in the history of Adam Daniel Miller. (That's me, I wrote all of this.) Because the truth is, even though I only spent one evening with Mel Brooks, he's been with me a lifetime.