I grew up knowing and appreciating that my family and I were Jewish. I didn't really understand the religious technicalities, but tradition was everything.
My parents (and I) are immigrants from the former Soviet Union. I'm literally zero generation (I don't know why I think that sounds cool) and so, alas, I cannot ever be president -- but I think I'm more than okay with that.
The thing about Jewish identity is that it evolves. I did not grow up with the idea of Shabbat dinner on Friday evening every week, but this idea of full disconnection with our outside world and full connection with our loved ones was not foreign to me. I come from a huge family that enjoys elaborate dinners with multiple courses and plenty of drinks to go around. That's just the Russian culture. But a special dinner, a meaningful meal and time to cap off the week and indulge in people -- that was somewhat new to me.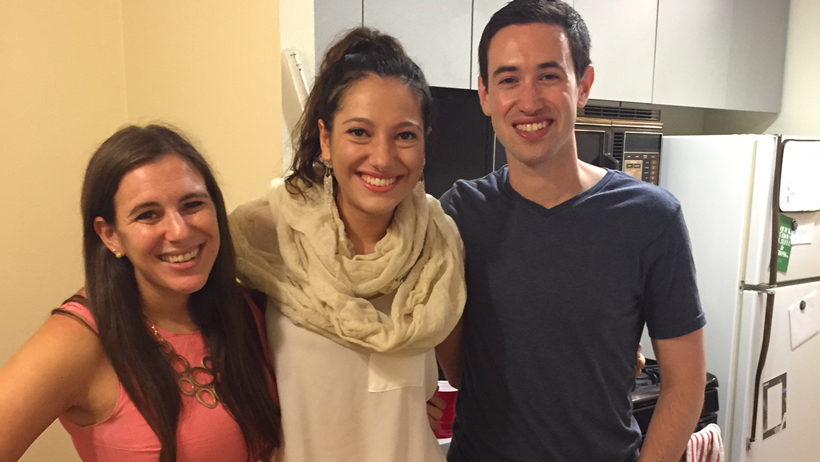 It wasn't until college that I began chipping away at this metaphorical block I call my Jewish identity. I joined a Jewish sorority without having any concept of what a sorority really was, especially not what it meant to be in a "Jewish" one. But my reasoning for joining was that I felt comfortable. I had friends joining and friends of friends that all knew each other through Jewish geography. It just felt right being around these people that I grew up with.
I didn't think much of it until I started forming my core group of friends, who are now my "#squad" of confidantes that I intend to consult with for the rest of my life. This inner circle had a few similarities. One was that we all happened to go to the University of Illinois or brought in people we either met outside of college or knew growing up. The second was that we were all Jewish. I don't think it is a coincidence that today, four years out of college, it continues to bond us.
I also started going to Shabbat dinners in college for all the reasons any college student would: free food and booze. At the time, these meals were just convenient and fun social events to me, but after college, they became a bit more meaningful because I really chose to attend. I put effort into planning my Friday night around them and coordinating them a large group of people. Still, these were more of a fun social experience centered on good food.
It wasn't until about a year and half ago that Shabbat dinner became much more intimate. The food and wine became bystanders. My focus was on the people. The groups got smaller, the conversations got more personal, and my night started and ended with dinner. And I wouldn't have it any other way.
I have seen an endearing trend over the many years of Shabbat dinners, at least for myself. People have and will always be my focus. I get so much enjoyment out of just listening and really hearing what people have to say. Shabbat dinner is this perfect setting to disconnect, unwind and be present. The older -- let's call it "more mature" -- that I get, my Jewish identity continues to blossom and I continue to relish in these moments. And it all really started with a casual Shabbat dinner. It's truly been that impactful.
My advice is simple. Whether it be on Shabbat or another day, religious or not, learn to set time aside to be present for others, but most importantly for yourself.