Did you hear the one about the Jewish-Mexican bakery?
This is not a joke. Masa Madre, which translates to "Mother Dough," is a labor of love for Pilsen residents Elena Vázquez Felgueres and Tamar Fasja Unikel, both Mexico City natives; Fasja Unikel also is Jewish. In the two years since they introduced Masa Madre, they have gone viral with their challahs and sweet and savory babkas, all made to order and available exclusively online to ensure maximum freshness.
We caught Vázquez Felgueres and Fasja Unikel between babkas to talk about Masa Madre, preserving their cultures through baking and keeping traditional recipes fresh.
Not to get all Passover on you, but how is Masa Madre different from other bakeries?
Elena Vázquez Felgueres: The combo of cultures is a big part of what makes us different. Even though there's such a big Jewish community in Mexico City, it's not something people know of in Chicago. The fact that we make every single thing to order and we bake only the day that the order is being collected makes us one of the freshest and also most sustainable bakeries around.
How did you two meet?
Vázquez Felgueres: We met back in 2010 while studying Fashion Design. Tamar had her own home-based business called Little Miss Cupcakes, where she would sell made-to-order decorated cakes. I dropped out of Fashion Design to pursue a career in Culinary Arts in Spain.
Please talk about your family histories in terms of food. Did you both come from culinary households?
Vázquez Felgueres: My grandmother is an amazing cook. She hosts big parties for family and friends where she makes buffet-style food, but her signature is always her perfect cakes and desserts that pair perfectly with the delicious meal. My mother taught me from a young age how to bake. I remember my mother bringing cake for my birthday every year to school to share with my classmates. She was one of the few mothers who made the cakes from scratch in the morning so they would be fresh. My classmates would always ask me if my mother was bringing cake that year!
Tamar Fasja Unikel: I come from two very different backgrounds. On my dad's side, my grandparents came from Syria; my grandmother is the best cook I know. I ate at her house every Saturday (and all of my family living in Mexico still do), and I looked forward to that all week. On my mom's side, the family came from Lithuania. She's an amazing baker. She opened her bakery, Hadasa, in Mexico City, 47 years ago, and it is still an institution.
What is the intersection of Mexican and Jewish baking? How are the traditions alike?
Vázquez Felgueres: When the Jews arrived in Mexico in the 1900s, they didn't know the language, the culture, or the food. However, it is known that the importance that Mexicans gave to their cooking and the social aspect of sharing meals, was a big part of what made the newcomers feel safe and connected. There's so much in common with the way Jews and Mexicans engage in social life and family togetherness, that even if the flavors are extremely different, there's a bond that ties them. It doesn't matter if it is a time to mourn the dead or a time to celebrate life-both cultures rely almost solely on food to mark the event and bring people together.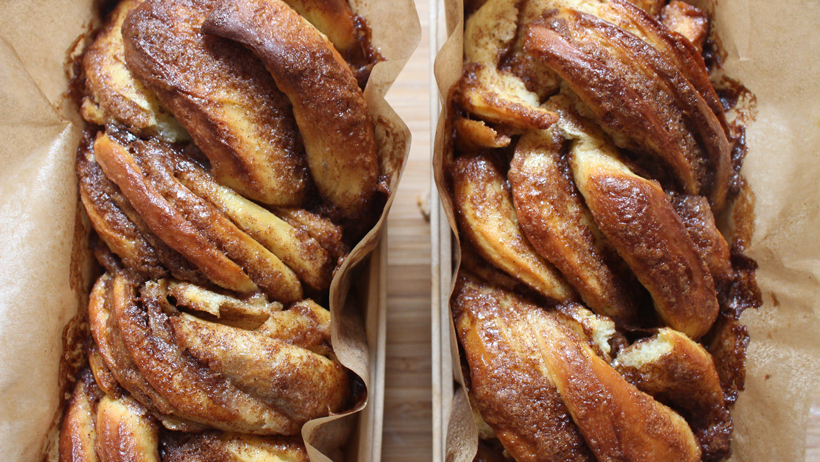 Masa Madre, an online bakery, is putting a Mexican-flavored twist on the Jewish classic, the babka.
Babka entered the pop culture lexicon thanks to a memorable Seinfeld. Do your customers quote lines like, "You can't beat a babka?"
Fasja Unikel: I think I learned about babka through Seinfeld. I don't think there were many babkas in Mexico while I was growing up, but I was a big fan of the show. I didn't even feel like making a cinnamon babka [because of the episode, in which Elaine calls it inferior to the chocolate babka], but people still go crazy for it.
What are your credos when it comes to your creations as well as your business?
Vázquez Felgueres: We want to make a product that has great quality and great flavor without compromising our concerns about climate change. When we say we use consciously-picked ingredients, we mean we choose organic flour, cage-free eggs, and fair trade cacao. [The bakery is not kosher-certified, but the ingredients are.] We avoid products that carry palm oil and high-fructose corn syrup. We also offer many vegan options for those who avoid any dairy and eggs either for allergies or environmental concerns. Regarding our packaging, pollution is a major threat in the world today and the worst enemy is plastic, so we planned our packaging avoiding plastic at all cost, using only recyclable boxes, compostable chemical-free baking paper, and 100 percent cotton twine.
Do you view baking as a way to carry on family or cultural traditions?
Vázquez Felgueres: We do. When we make our products, we use techniques and recipes taught to us by our grandmothers, as well as the flavors we remember from our childhood in Mexico. With so much political tension, we like to think that food is the passageway to people's understanding of each other's cultures.
Check out Masa Madre at hellomasamadre.com.