Jews know a thing or two about sacred books. We have a ton of them, and we like to have our own personal printed and bound copies, even if we'd sooner Google their contents than pull one of those dusty 5-pound bricks off a high shelf. As a day school teacher and a rabbi, respectively, Henry Bernstein and Brandon Bernstein (no relation, as they'll be sure to remind you) are well-versed in Jewish text, but they also own volumes upon volumes of other texts they care deeply about -- comic books.
As someone whose love of superhero comics runs as long and deep as his Judaism, Henry had long been nagged by the question of why his religious practice has so rarely been visible within the pages of comic books. After all, the biggest names behind the 20th century Golden Age of comic books -- Jerry Siegel, Joe Shuster, Stan Lee, Joe Simon, Jack Kirby -- were all Jewish.
So Henry took that grievance to Brandon, his fellow Bernstein and friend in all things Jewish and comic books (and wrestling, but there's not enough time to get into that now). Earlier this year, they launched Funny, They Don't Look Jewish, a new podcast dedicated to finding characters, stories and issues of comics that explore "explicitly Jewish content."
"I was getting kind of tired of the fact that so much of what's Jewish about comic books was always about behind the scenes, it was always about the creators." Brandon said.
Then there were the vaguely Jewish analogies, such as the equating of baby Superman being sent off to Earth in a spaceship and baby Moses being sent down the river in a basket. Those connections, while valid, weren't satisfyingly Jewish enough for either Bernstein.
"What we're really looking for is representation," Brandon said. "We're looking for instances where we feel that Jewish characters are somehow living or being Jewish in a way where we can look at it and say, 'oh my gosh, that's someone like me on the page.'"
For the podcast, they zeroed in on characters who identify as Jews, who are experiencing Judaism, participating in Jewish ritual practice or even just discussing their Judaism.
"It's not just a character saying, 'oy vey' or 'he's a mensch' in a vacuum," Henry said. "I might say that's cute, but it doesn't move me. Something that moves me is when The Thing from Fantastic Four is reading Torah … that is me right there on the page."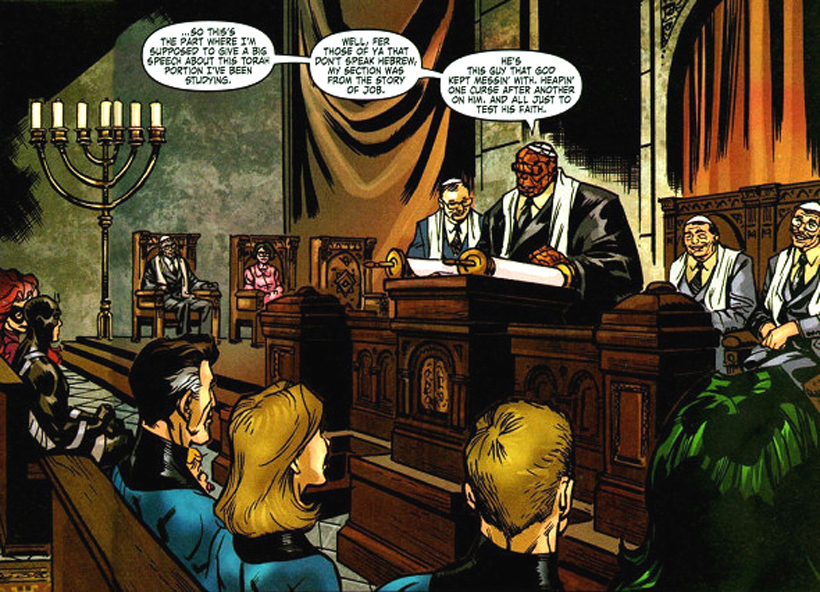 The Thing, a.k.a. Benjamin Grimm, was the character explored on the podcast's first two episodes. Although created in 1961, it wasn't until 2002 that The Thing's Judaism was first acknowledged, on the pages of Fantastic Four Vol. 3 #56. Henry and Brandon use their recording time to look in depth at that issue and a few other instances of The Thing's Jewishness in subsequent years. They consider everything from interviews with the writers in which they discussed their approach to the Jewish content to the accuracy of the Judaism on display to their emotional reactions to seeing moments such as a superhero reciting the Shema on the pages of a comic book.
Henry and Brandon put significant research into each character and the genesis of that character's Judaism. The episodes have both educational and conversational components; times when the dialogue is structured and times when the duo gets to geek out a little.
There's even a flavor of Jewish text study that comes across as they dive deep into the images and words, offering multiple interpretations and perspectives. That makes sense to Brandon, who says both his Jewish and comic fan identities call for close reading skills.
"It's a skill you learn from reading comic books over and over again, and it's a skill that you learn as a Jew," he said. That's what it means to study sacred text and Torah."
While Brandon says he doesn't mistake comic books for sacred text, Henry completely relates to the analogy; he owns an entire library of trade paperbacks, hardcovers and omnibuses of comics that he also has in boxes at his parents' home as well as backed up digitally.
"These are sacred texts to me," he said. "What Brandon and I are doing -- yeah, we're doing commentary. If a comic was a page of Talmud, you might see Brandon on one side and Henry on the other."
Brandon said he thinks similarly about the traditions of Judaism and comics. Both began long before he was born, and both will be around long after he's gone.
"I was born into the middle of an ongoing story and I've seen that story evolve as I grow up," he said. "Both comics and Judaism continue to become more and more poignant and relevant … it feels like they grow up with me and they get more intriguing and intellectual and challenging."
For other younger or older adults who have only just started to grow more interested in comic characters and stories, both Henry and Brandon recommend not being shy about seeking out recommendations from your local comic book shop, or checking out issues from your nearest library. As an added pro tip, Brandon suggests following creators not characters. "Follow writers and artists you find most compelling and you'll discover new characters that way."
And there will be plenty of characters to discover through the podcast too. So far it's been The Thing and Batwoman, and on the next episode, they'll tackle a Marvel superheroine who is not only Jewish, but from the Chicago area.
Funny, They Don't Look Jewish is available to stream, or on Apple Podcasts,Google Play,Stitcher, or wherever you get your podcasts. And be sure to connect with them on Facebook and Twitter.