My 7-year-old son (with baseball and Sharpie in hand) and I were invited to attend the movie premiere for Heading Home: The Tale of Team Israel, a documentary on the Israel national baseball team that competed for the first time in the 2017 World Baseball Classic.
Putting together a competitive baseball team is difficult no matter how many players you have to draw upon; finding players for Team Israel proved particularly tough for the general manager. Most of the players were American Jews playing some level of professional baseball in the States. Diligent in its research, the team made sure each player had a Jewish family member. At one point, a player showed his grandfather's dog tags as evidence for his Jewish connection. My son's reaction was, "even their dogs had to be Jewish."
Many of the players had not been to Israel before, and watching their emotional reactions as they hiked Masada, placed a note on the Western Wall, or took a personal moment at the Wishing Bridge was a highlight for me. These excursions clearly helped develop rapport between teammates, and their reactions of joy, amazement and surprise while seeing the sights was pure and honest.
Throughout the film, players talk about their Jewish background, experiencing anti-Semitism, and even learning about how family members perished during the Holocaust. You can't help but want to root for people who share in the stories and experiences that are common among many Jews.
As the movie progresses to game footage, it mentions that Israel's odds of winning the tournament were 1 in 200. They were underdogs, and that motivated them to work hard. I felt like I was watching a real-life Rocky story.
Whether you're a sports fan or not, you can't help but be filled with pride while watching them on the field and winning games few expected them to win. The film reflects this in showing the diverse range of fans that took to the team; at one point my son turned to me and said, "those rabbis are really going crazy."
Growing up there's this misnomer that Jews aren't athletes; you watch this movie and understand that's not true at all. When they show Israeli children talking about how they want to play ball, you realize the impact this team has had.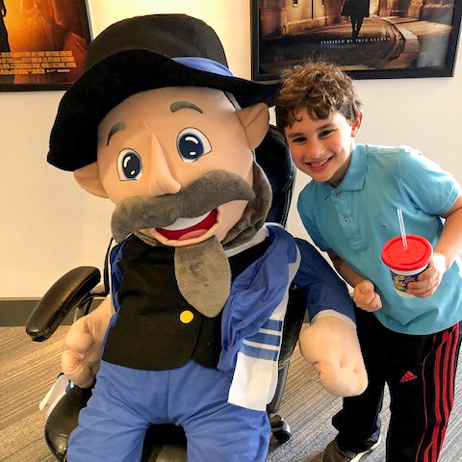 Heading Home brought me closer to Israel. My son, immediately put on the Team Israel shirt he won from a drawing after the movie, also feeling the connection. We look forward to cheering on the team at the next World Baseball Classic.
'Heading Home' is now playing at the Landmark Renaissance Place Cinema in Highland Park. View showtimes and get tickets here.