Doing my weekly scan through Crain's Chicago Business, a story about healthy lemonade caught my attention. Who doesn't love a good lemonade? Yet as our diets have become more sugar-conscious, fruit juices have gotten a bad rap.
The Crain's article introduced me to local entrepreneur Melanie Kahn, the founder of Poppilu, a tasty antioxidant lemonade drink with less sugar than similar drinks (and named after Kahn's daughter Poppy). Kahn's venture started with a citrus craving while pregnant; she didn't want a lemonade loaded with sugar and additives. That led her to aronia berries.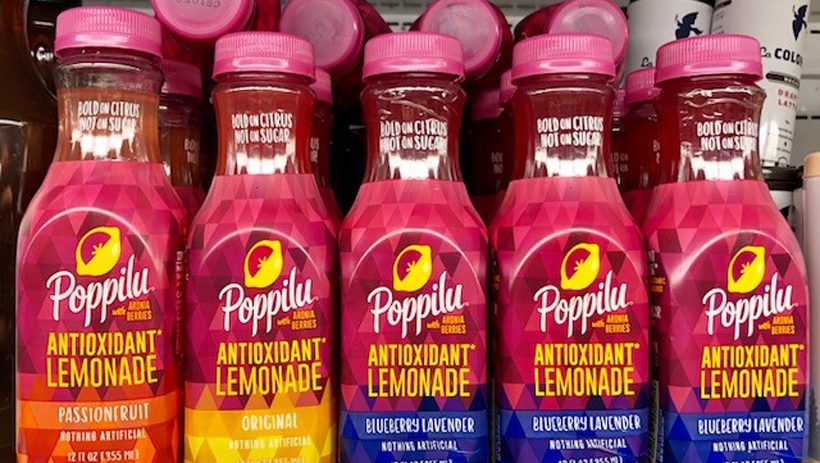 Kahn makes the arduous entrepreneurial process sound inspirational -- I certainly found her to be a Jew You Should Know.
1. How did you end up in Chicago?
I went to Northwestern, where I studied Journalism, and that's when I first fell in love with Chicago. I am from Boston and moved back to Chicago in 2005 for a job. Minus the winter, I think Chicago is an extraordinary city, and the best place to live. There is so much to do and explore.
2. Before you were an entrepreneur, what did you do?
I worked for big consumer packaged goods companies in food and beverage and then I had an amazing opportunity to launch the dairy brand fairlife® as a start-up under a joint venture with Coca-Cola. The years of big company experience and start-up success gave me the confidence to try my hand at entrepreneurship.
3. How did you turn a craving into a business?
A lot of people ask me "Where do you even start when you have an idea like that?" I think the prospect of starting a consumer food or beverage business can be daunting since so many pieces need to come together: concept, formula, manufacturing, pricing, logistics, distribution. It's like building a house and you have to be flexible to change the blueprints: if you make a change in one area, you better believe it'll impact something else. I learned an early lesson: You need to be flexible. I had to make several changes along the way and still am adjusting as the business grows. I was willing to pivot, but the goal was always to create a healthy, delicious lemonade with a strong mouth-puckering citrus taste.
Being a small company, I couldn't rely on expensive research, I had to trust my gut. When I learned about the aronia berry, which grows locally in the Midwest, and has a high concentration of anti-oxidants, I knew I was on to something. I really think this will be the next superfood buzz-food. The health benefits are impressive, it was even used by Native Americans as medicine. Finding this superfruit was a real benefit that I could use to make a healthier lemonade.
4. Who or what inspires you?
I really enjoyed the food and beverage experience I had at big companies. However, I didn't have the autonomy to make changes, at least not quickly. Doing my own thing, is exciting. I make the decisions, and sometimes I'm right, and sometimes I'm not. But at least I have the satisfaction of having made the decision.
5. What's it like being a self-proclaimed Momtrepreneur?
I love it! It's lots of hustling, events, manual labor, rolling up my sleeves and getting things done, and most importantly being a creator who (at least at this stage) calls the shots. Getting Poppilu to market has been one of the highlights of my career. And the best part, I get to spend a lot of time with my kids at hours that I can choose. Don't get me wrong: There's no work-life balance. But there is flexibility, and that's worth a lot.
6. What are some challenges you face?
Being an entrepreneur is hard. It can be all consuming. I don't have a lot of "me" time because I'm either tending to family or to work and both of them are fulltime jobs. Multi-tasking is key, and women are great at that. You'll often see me jogging while pushing two sleeping children in a stroller with the dog running alongside, and me talking into my headset: I'm getting a workout, my kids are getting naptime, my dog is getting her walk, and I'm getting a bunch of business calls crossed off the list. And yes, I always warn the person why I'm breathing heavily!
7. Tell me about your family
I have a wonderful supportive husband, two precocious kids ages 2 and 3, and a schnauzer. We are always outside, and we've become very recognizable with my bike towing a trailer with two kids and our dog peeking out. We're usually en route to a playground or tennis courts or other family activities. We try to get around on foot, bike or public transit whenever possible.
8. How do you Jew in Chicago?
My kids are at a Jewish preschool that's part of a congregation and they start shabbat for us by making challah there. I think the early childhood Jewish education has been important for us as a family to connect with the Jewish community, especially since my husband Sam and I don't have roots in Chicago. Sam is also on the board of Beber, a Jewish camp in Wisconsin, that is well connected to the Chicago Jewish community.
You can find Poppilu at Jewel, Mariano's, Fresh Thyme, Pete's, Treasure Island and other grocers. And keep an eye out as Kahn works to grow the brand in grocery stores throughout the Midwest.