Salmon, the king of fish. Mostly everyone loves it, and unfortunately, mostly everyone overcooks it. But not this time boys and girls, not this time.
This isn't your everyday salmon either, kids. It's Copper River Salmon -- basically the Hercules of salmon. And it's fantastic. The Pacific Northwest comes alive each May as this salmon becomes readily available for a short few weeks. Restaurants buzz with whispers of succulent grilled Copper River Salmon, poached Copper River Salmon and plainly sautéed Copper River Salmon. And those in the know are able to get it all over the country now from gourmet super markets and fishmongers alike.
What makes this salmon so spectacular? It swims in the cold and treacherous waters of the Copper River in Alaska. It is 300 miles long, extremely cold and has roaring rapids. These unyielding conditions force the fish to become stronger, fiercer and -- tastier. It boasts a higher content of healthy Omega 3 fats and therefore has a silkier, melt in your mouth texture and a more robust flavor that will leave you craving more.
Salmon is pretty prevalent in our house. I try and buy it as often as possible due to its positive nutritional attributes and lip-smacking flavor. It is a must in our household.
Although, I must say, I have exhausted my favorite salmon recipes to the point where they are no longer a favorite. So off to the drawing board I went, wrecking my mind for ways to reinvent the ever-so-popular household staple.
I was browsing through Costco and stumbled upon this naturally, bright-red fleshed fish! It was Copper River Salmon season, people! And I was not about to turn it down.
(FACT: Salmon gets its gorgeous salmon-y color from consuming shrimp in the wild. However, when it is farm-raised, it is fed everything but shrimp and due to that they have to dye the flesh, not to mention pump it full of antibiotics. All more reason to get wild fish.)
Considering it is summer, I try and grill as often as possible. It's healthier, it gets me outside and most importantly, it's way quicker. Hubs recently picked up some handy-dandy cedar planks to be used for grilling. And that was precisely what I intended to use.
These planks are an easy and quick way to prep fish on the grill. They infuse your food with a subtle, smoky flavor without adding any fat or much work for that matter.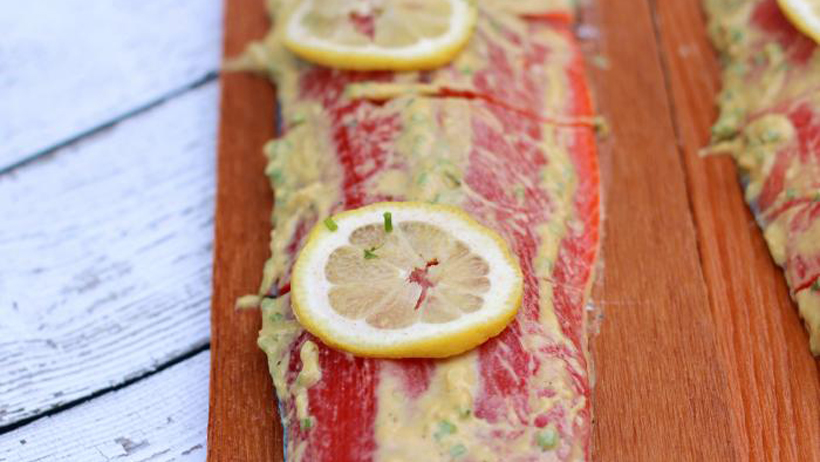 Honey Dijon Plank Salmon
Ingredients
3 pounds wild salmon
1/2 cup of Dijon mustard
2 tbsp honey
4 minced cloves of garlic minced on the microplaner
sliced lemon slices optional
2 tbsp chopped chives
juice of half a lemon
salt and pepper
Instructions
1. Season salmon liberally with salt and pepper.
2. In another bowl, mix up honey, dijon, minced garlic, lemon juice and chives. I always put lemon juice with fish. I just feel it brightens the flavor.
3. Preheat your grill to high. Place the salmon on your planks that were previously soaking. Place a few dollops of the honey mustard mixture onto fish.
4. Spread it with a spoon or a knife. Whatever your heart desires. I did it right in the package that the salmon came in. You can also add some lemon slices on top to complete the picture. I like to slice the salmon into my portions right here on the planks so that it does not get messy after I cook them.
5. Place the planks on the grill and close the grill.
6. Allow to cook for 10 minutes or until the flesh is pink...you want it to be cooked to medium. THAT is the temperature good salmon should be cooked to.