Earlier this year, my boyfriend invited me to a new pop-up dinner series called Diaspora Dinners, which was serving up dishes inspired by Jews living in America's south -- and I couldn't turn down an invitation to enjoy two of my favorite comfort foods. It was fascinating to learn how the Atlantic slave trade influenced Jewish cuisine, plus, beef served alongside everything bagel bread pudding made for one delicious Shabbat.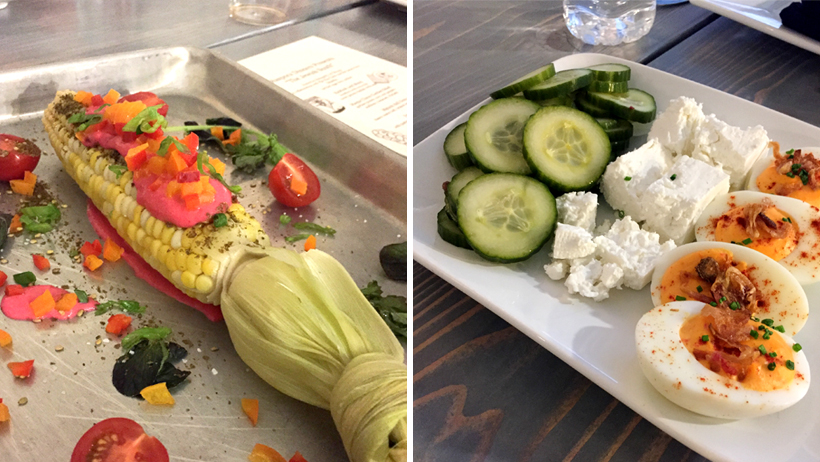 Maque choux garden salad (gotham greens, corn, red peppers, scallions, tomatoes, rhubarb) and snacks (deviled eggs, feta, pickles).
Dylan Maysick, the co-founder of Diaspora Dinners, had owned a wholesale baking business called Front Room Donuts, but he was becoming burnt out from turning out mass quantities of food for people he would never meet.
"It had just become so impersonal," he said. Maysick wanted to create a business where he could engage with the people eating his food. He closed the bakery and thought about his next move.
For fun, Maysick wanted to try hosting a dinner party at his home. He solicited the advice of friend Chris Reed, who nearly a decade ago founded The Rice Table, a pop-up dinner series in which he cooks the Dutch-Indonesian food of his mother and the Cajun cooking of his father. This inspired Maysick to consider the Jewish traditions of his wife, Rachel Ellison.
Maysick was raised in a predominantly Dutch community in Michigan by a family with Evangelical roots. He had only met one Jewish person until college when he met and fell in love with Ellison, who was raised in a Conservative Jewish household in Ohio. In fact, their religious differences and how it affected their families led to a break up. Four years later, they reconnected, reconciled their religious differences and found a way to navigate them together. Through all of it, Maysick learned a lot about Judaism, including cuisine, and became fascinated with the question of "what is Jewish food?"
"You have Sephardic Jews, the Mizrahi Jews, and these pockets of communities in India… and then trying to look at what is Jewish food and what is the thread that runs through all of that, if anything," Maysick said. "It became a really interesting question for me."
For the first dinner last December, Maysick and Reed created a meal inspired by the way many Jews spend their Christmas -- eating Chinese food. The duo cooked traditional Jewish food with a Chinese twist. They served hot and sour matzo ball soup, orange chicken with tahini noodles, and a brisket with Chinese five spice and Chinese broccoli.
The dinner party was a success, so Maysick and Reed endeavored to continue creating dishes inspired by the Jewish diaspora and launched Diaspora Dinners.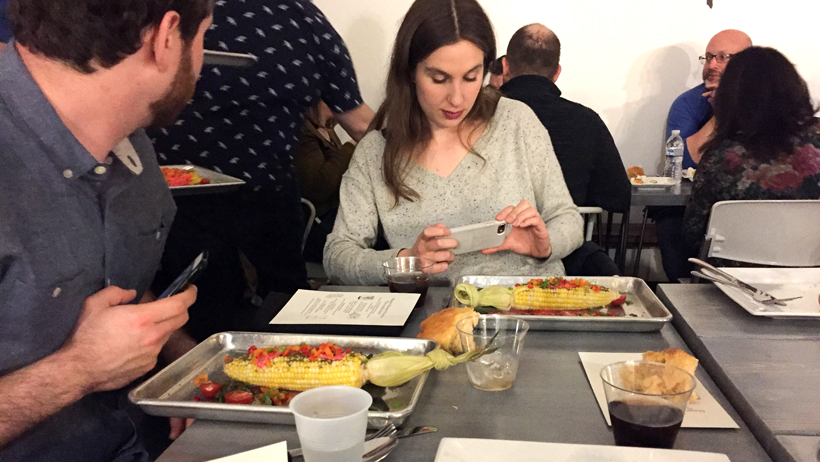 The author getting some Instagram-worthy pics of her maque choux garden salad.
"Another cook might be starting at the farmers market and building a menu around what's there," Maysick said. "We're looking at stories and then figuring out how to share the stories we're interested in and have something to really say about each dish."
Maysick and Reed are learning as they go. For example, they'd like to repeat menus and host every two or three weeks, instead of once a month, so more diners can enjoy their meals.
Those who can't make the dinners can order and pick up homemade challah on a Friday or a pastry box available most Sundays. Maysick also hopes to create a cookbook on diaspora Jewish food.
Though Maysick chose not to convert to Judaism, he said, "When I can make a new challah recipe and give it to someone that grew up going to Hebrew school and asking me about the history of this, I feel like I can contribute, too, in a different way. It's definitely strengthened my connection to that community."
The next dinner will be an all-vegan Middle Eastern Shabbat meal in August, and keep an eye out for one focused on Jewish-Italian cuisine.