Moviegoers still hungover after Oscar season and looking for their next heavyweight dramatic fix will find one in Foxtrot, Israel's most recent Ophir Award-winner for Best Picture and consequently its submission for Best Foreign Language Film to the 2018 Academy Awards. But a word of warning: it doesn't have the heartwarming demeanor of this year's Best Picture contenders.
An unabashed and core-cutting examination of guilt, grief and human flaws, Samuel Maoz's second feature film (after 2009's war drama Lebanon) gets under the skin with unsettling suspense, even despite containing no overt elements of mystery. A film in three acts, it begins with a portrait of a husband and wife (Lior Ashkenazi and Sarah Adler) who have received terrible news and takes a series of surprising turns.
A carefully and beautifully crafted film, Foxtrot earned every one of the its 13 Ophir nominations and 8 wins. The camerawork, sound editing and performances combine to create moments of deep emotional resonance. If anything, perhaps Maoz gets too creatively assertive in his directing style, but by and large his use of overhead shots and long takes bring us deeper into the story and the characters' experiences.
The middle act, which examines four male soldiers at a dingy, remote IDF outpost, has touches of Zero Motivation, Israel's comedic hit from 2014 that showcased the unglamorous side of military service. Foxtrot employs similar dark humor but takes the psychological aspects to a more intense level. These scenes and the IDF tie-ins ultimately brand the film as Israeli. For the most part, it's a secular movie with a story that could be told anywhere.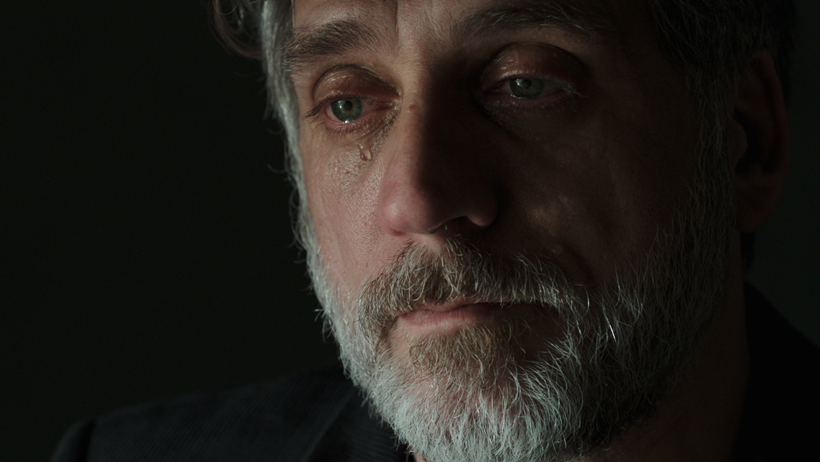 Lior Ashkenazi as Michael
In fact, Maoz prods at the boundary between the sacred and profane, approaching some subject matters that more "proper" audiences might find distasteful or difficult to watch. Pretty representative of that attitude is when one character tells a story about a boy trading an ancient bible passed down to him from a Holocaust survivor for a dirty magazine. Maoz wants to show honest characters with secrets and flaws; he is decidedly anti-establishment with an unashamed worldview. At the same time, he's also a classic romantic -- one of the film's main images is a dance sequence between a soldier and his rifle.
Foxtrot is designed to provoke an unfiltered response from its viewer. The story is light on context; we don't know much about the characters other than what we see on screen or what they say to each other about each other. Yet the film presents them mostly in tense, vulnerable, soul-bearing moments. This makes it a little challenging to settle comfortably into the story, but also suggests that too much information can get in the way; regardless of who these characters are and what they've done, they are struggling, flawed humans trying to navigate the world. If only we could all see each other that way.
"Foxtrot" opens in Chicago today, Friday, March 23, exclusively at Century Center Cinema, 2828 N. Clark St.