Well, it's that time of the year again -- though in about a week, it will be an hour behind that time of the year because of Daylight Saving Time. But at any rate, the time of the year I am referring to starts around early October and goes through late December (with potential spillage into early January). For you see, this time is known as "Holiday Movie Watching Time."
It is a time in which I watch all the movies that revolve around some of the major holidays, starting with Halloween, through Thanksgiving and onto the respective present giving holidays of Chanukah and Christmas.
But the thing is, in wanting to appreciate my own heritage, growing up in the world of available Jewish holiday movies, I was basically limited to Cecil B. DeMille's The Ten Commandants, the Comedy Central movie The Hebrew Hammer (the only "Jewsploitation" film I know) and Home For Purim, the movie within a movie in the Christopher Guest mockumentary For Your Consideration that has a great close-up of the kugel. And that's it, because we won't mention Adam Sandler's 8 Crazy Nights like we just did in that sentence.
But conversely, my yearly list of Christmas movies includes the likes of Home Alone, How The Grinch Stole Christmas, The Muppet Christmas Carol, Gremlins, National Lampoon's Christmas Vacation, The Nightmare Before Christmas (it counts), A Christmas Story, Die Hard (it also counts) … the list could go on and on.
So year after year I am reminded that, especially compared to Christmas, there is a sad lack of Jewish holiday movies, which brings me to thinking there is even more so a lack of Jewish-themed movies. Sure we have the classics Fiddler on the Roof, Yentl and Airplane! but that's basically it. That last one counts because of the Jewish directors and this joke: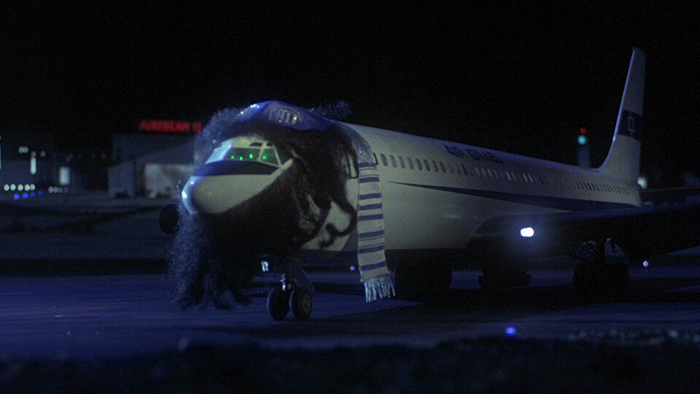 So while I guess I'm part of the problem because I'm realizing after writing this that I do love a lot of Christmas movies, my intention is not to knock Christmas movies, but rather balance out my holiday movie lineup with a bit more-- ehhhhh, how you say -- Jewish accoutrement.
So that's why I've come up with a short list of 10 Jewish movie ideas that I think need to get greenlit, or should I say, bluelit? No. No, I shouldn't.
Regardless of the color of light, these are my Jewish movie elevator pitches. Although some might take a moment to get through, so they are more so my long escalator pitches. Enjoy!
A Chanukah Story
A young boy named Rafael attempts to convince his parents, his Hebrew school teacher, and his rabbi that a brand-new replica Jericho 941 Semi-Automictic Pistol used by the IDF really is the perfect Chanukah gift.
Hershel and the Hanukkah Goblins: The Movie
A live-action movie based on the book of the same name detailing the adventures of Hershel of Ostropol as he outwits a series of Chanukah-hating hobgoblins. Hershel will obviously be played by Liam Neeson.
Miracle on Rabbi Berkowitz Street
When a nice old man who claims to be the long-lost Rabbi Berkowitz is too good to believe, a young mensch of a lawyer (whose mother wishes he were a doctor) decides to defend the rabbi by arguing in court that he is the real thing.
Mel Brooks' History of the World: Part I presents: Jews In Space: The Full Movie!
Based on the short teaser at the end of the original movie, this will be a full-blown space opera (but not too loud, it hurts my ears) involving the "Jews In Space" defending the futuristic Jewish Holiday "Super Shabbat" from goyim by slapping them back in the face.
Remake of The Frisco Kid
Starring John Stewart as Rabbi Avram Belinski and still Harrison Ford as Tommy Lillard.
The Great Jewish Holiday Anthology Movie
Six Jewish directors direct six different short films chronicling a different Jewish Holiday. They may or may not all deal with inviting your mother over for the holiday. Depending on your perspective, this will either be a comedy or a horror film.
National Lampoon's Purim Vacation
It's Purim time and the Grisbergs are preparing for a family seasonal celebration, but things never run smoothly for Chaim, his wife Esther and their two kids, Adina and Reuel. Chaim's continual bad luck is worsened by his obnoxious family guests, including Cousin Itai, but he manages to keep going knowing that his Purim bonus is due soon.
Rabbi Tuckman: Mohel Extraordinaire
Our second Mel Brooks-inspired movie, this would be a spinoff of the character from Robin Hood: Men in Tights and would be an origin story -- since it's the popular thing to do these days -- about how our aforementioned title character became a father…rabbi. Whatever.
For the Rest of Us
A young boy, let's call him George, must power through Feats of Strength and an Airing of Grievances, all on his quest to learn the true meaning of Festivus, because Festivus is a Jewish Holiday by proxy.
Dayeinu
A murder mystery that takes place around Passover. The famous Jewish detective, Shylock Holmstein, keeps diving deeper and deeper to figure out more and more mysteries, but it turns out the first clue would have been enough.
Now if someone would be so kind as to get me in touch with a Jewish Hollywood producer -- sorry, that's a bit redundant -- a Hollywood producer, so I can give them these long escalator pitches, I'd be much obliged.