There are times when the most trivial thing suddenly becomes the most important; the meaningless suddenly has all the meaning in the world.
Growing up, my meaningless obsession was fantasy baseball. From grade school until the start of college, I spent nine years with my closest friends fixating on a list of professional baseball players. I spent two months each winter prepping for our draft by compiling a full binder's worth of research including stats and rankings on hundreds of players, including minor league prospects. There were many nights spent on conference calls or at a local restaurant negotiating trade deals, sometimes in frustration, other times with anxiety and rarely with elation.
But more than any move I ever made or trade I completed, the friendships were what mattered most. My fantasy baseball rivals were my closest high school friends -- and that was no accident. When you spend all that time together (even if it's jumping down each other's throats), it's only natural for close relationships to form. In addition to strengthening those friendships, fantasy baseball built or rekindled those that would have never existed otherwise.
One of those friends was Adam London. I grew up with Alo -- as he often went by - from kindergarten on. We spent time at each other's houses, played sports and went to overnight camp. Alo's love for Camp Chi, a Jewish overnight camp in Wisconsin drove me there for three straight summers.
Yet often as friends do, they start to grow apart. We developed different friend groups in high school, but we always had one thing keeping us together -- our fantasy league.
Like all good things, however, this too came to pass as we parted for our respective colleges and left the league behind.
Fast forward to February 2016, when in the middle of a lecture I receive a shocking text from my friend Becca that shook me. It didn't feel real. Alo had passed away on a business trip.
Nothing I can say here can highlight the type of person we lost like this blog post by Eric Lefkofsky from Lightbank. I couldn't help but think about how sad it was to lose such a great person at way too young an age.
I texted our entire league to share the news. Everyone reacted with the same shock and sadness. League members were living in four different states and even another country when this happened. Yet at that moment, it was as if we were all in the same room together, supporting each other in this time of sadness.
When you lose someone the way you lose Alo, there are several ways to respond. For all of us, that response was fantasy baseball. It's been eight years since our league disbanded and yet it suddenly became an urgent and cathartic way for us to come to grips with what happened. Something that had once seemed like the least important thing to focus my energy toward suddenly felt extremely important.
So we started the league up again. So many years later, I had no idea whether the league would be as fun or competitive as it was in the past. After all, we're talking about working young professionals with actual things to worry about, like paying rent; people who are a far cry from the dependent adolescents they were several years ago.
Amazingly, we didn't skip a beat. The banter, the adrenaline and the excitement all felt the same at 26 that it did at 16. Early during the baseball season, the four of us even met in New York. We caught up and learned about what has been going on in each other's lives. A simple game eliminated the physical distance between us.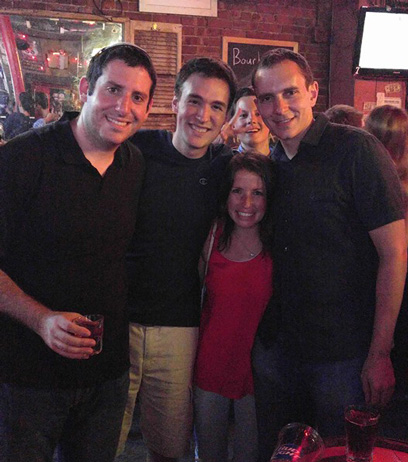 Our fantasy league reunion in New York.
Sometimes, life throws us challenges so hard to fathom that we need to escape. It might seem small or silly, but fantasy baseball was our escape.
Fantasy baseball provided everything we needed when Alo passed. It gave us each other. It gave us an opportunity to reconnect. It gave us a way to remember Alo.