A ring -- I wear on my right ring finger. Ruby studded earrings. And lastly, the name I carry.
How much are they worth? Not a clue. But, they are worth the world to me. They're my great-grandmother's (dad's side). At least they were. The earrings I've had my whole life -- my grandma gave them to me as a little girl because I took on the name of her mother, a woman she loved dearly (I think I'm her favorite grandchild just for that).
It's an honor to have been given my name. And it's an honor to have these two precious pieces of the past. I never met my great-grandmother, but they all say she was a saint. No pressure…right.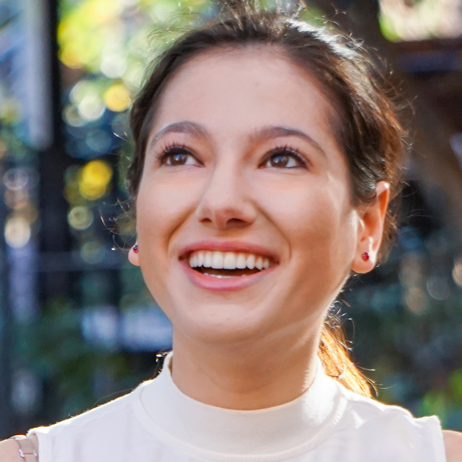 The thing is I'm really not a huge jewelry person. I never really was. I have a few pieces that I adore and will wear multiple times or dress up for events, but no big statement necklaces or fancy bracelets here.
I have one rule with jewelry and one rule only though: I have to wear the ring and earrings every single day. The days I don't feel a little worse, a little more daunting. Psychology, man.
But recently, my great-aunt (grandma's sister -- mom's side) reminded me that faith in something, even if it's a piece of jewelry, can carry people through tough situations. It carried her through a very, very tough surgery. When my mom and I flew to Israel to visit her, I cried the first time I saw her. I didn't know what to expect. And she was actually doing well, better than what I had imagined. We always imagine the worst.
So we went to the park with her, my mom, and my aunt and got to talking about how she's doing. My aunt pointed out my great-aunt's sapphire ring. She's had it ever since she was a young woman (around my age). And hasn't taken it off since. I mean I'm sure to clean…but you know what I mean. My aunt said that she got through the surgery because she would put it on, and it reminded her of her mom. And she was able to pull through. It was some kind of miracle.
Look, we believe what we want to believe. We give objects significance. Not the other way around. But there are special things like jewelry that have been passed down generation-to-generation that somehow make you feel connected. Like a piece of that person is always with you or watching over you.
When I was born, my parents couldn't decide on a name. Both sides wanted to name me and there was no unanimous decision -- that's what I get for being the first grandchild on both sides and the oldest. Anyway, after a week or two of being nameless (thanks mom & dad), my great-grandmother showed up in my dad's dream. She told him to give me her name and to "protect and take really good care of me." The second part I don't get, but even when she's no longer living, she's still being a saint…
And the rest is history. But somehow knowing that she came to my father in a dream and having these pieces to remind me of her makes you feel like you're in good company, always.
Again the mind will believe what it wants to believe. But what your mind believes is often stronger than matter and it's pleasant to have that kind of strength around.