In honor of the upcoming Valentine's Day holiday, we are celebrating with none other than this luscious and ridiculously simple chocolaty dessert. And I am going to make this short and sweet -- kind of like this dessert.
No lovey dovey love stories, no cute love poems -- just a straight up awesome dessert to whip up in under 20 minutes for your loved one. No matter how cheesy we all think this holiday is, no one will ever turn down a molten lava cake that is perfectly cooked on the outside and oozing with chocolaty Nutella goodness on the inside.
By now, everyone should know my slight addiction to Nutella. I try and stick its royal nuttiness into anything and everything sweet and I have done pretty well. But this one. This one just might take the cake (pun intended).
This dessert is one of my go to desserts that always wows any guests and literally takes minutes to whip up. No fuss, no muss, no mixer needed. NO MIXER. All ingredients are mixed super quickly in one bowl and then baked off in ramekins.
Hubs and I were in one of those chain fine steak restaurants not too long ago and we ordered their molten lava cake. And the hubs very clearly and honestly said, "Babe, yours is better."
Mission accomplished.
The little cakes are baked just until they are cooked through. So when they are cut into for the first bite, the gooey chocolaty goodness rolls out of the center of the cake leaving a beautiful brown chocolate trail down the plate.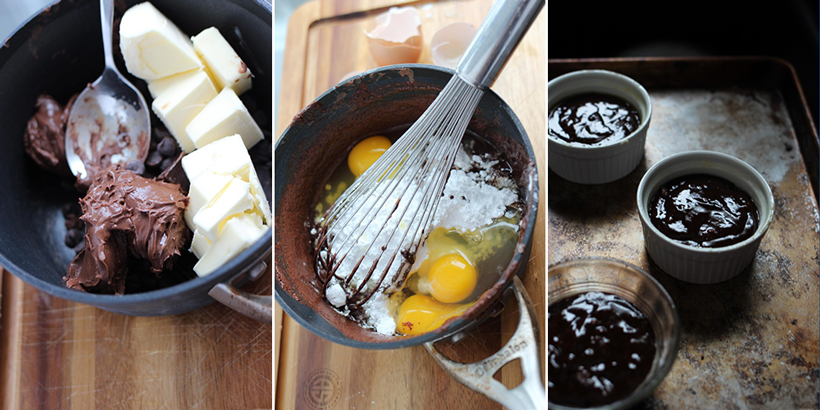 Nutella Molten Lava Cakes
Prep time: 5 mins
Cook time: 14 mins
Serves : 6 individual cakes
INGREDIENTS
6 (1-ounce) squares bittersweet chocolate
2 (1-ounce) squares semisweet chocolate
10 tablespoons (1¼ stick) butter
1/2 cup all-purpose flour
3/4 cups confectioners' sugar
1/2 a cup of Nutella
2 large eggs
3 egg yolks
1 teaspoon vanilla extract
2 tablespoons nut liqueur (frangelico, amaretto, whatever your little heart desires)
INSTRUCTIONS
1. Preheat oven to 425 degrees.
2. Grease 6 (6-ounce) custard cups.
3. Melt the chocolates, Nutella and butter in the microwave, or in a double boiler.
4. Add the flour and sugar to chocolate mixture. Stir in the eggs and yolks until smooth. Stir in the vanilla.
5. Divide the batter evenly among the custard cups.
6. Place in the oven and bake for 14 minutes, not a minute more, not a minute less.
7. The edges should be firm but the center will be runny.
8. Run a knife around the edges to loosen and invert onto dessert plates.
9. Serve with vanilla ice cream.