Hundreds of Jews and non-Jews across the Chicago area gathered for one giant "L'chaim" at the second annual Whisky Jewbilee at Architectural Artifacts in Ravenswood on Sept. 1.
The event featured 250 whiskies both from around the world and just a few miles away, but the most unique quality of the festival is that it's one of few that are completely kosher. That includes the food -- Shallots Bistro catered a Mexican-inspired menu.
The festival attracted Jews from both the suburbs and city while bringing together both the secular and religious into one venue.
"I think it's nice for Orthodox Jews to be able to come to an event that's so well-mixed and have kosher food and feel right at home," said Avi Newman, a first-time attendee of Whisky Jewbilee.
J.P. Bader, a whiskey enthusiast living in Lakeview agreed that having a kosher event was important to ensuring all attendees felt comfortable.
"I think the fact that we can drink and eat everything here is fantastic," Bader said.
Despite its name, however, the Whisky Jewbilee is not meant to be exclusively attended by the Jewish community.
"I like the social aspect and clinking glasses with people who appreciate the same things I do," Newman said. "Most Jewish events are just Jews, but this is incredibly diverse."
Whiskey Jewbilee founder Joshua Hatton said his intention was always to have an inclusive setting by hosting a kosher event. However, his first priority has been ensuring the event caters to whiskey lovers across religions, ethnicities and genders.
"Using this wide net as a target market for the Whiskey Jewbilee backed by our adherence to having a Glatt Kosher catered menu and having close connections to the kosher-keeping world is what helps make the event a success," Hatton said.
The ability to drink in a more casual, relaxed setting is a reflection on the change of venue. Instead of holding it on the West Side, this year's Jewbilee was in Ravenswood at a newer venue with more space. Although larger, the event was noticeably more intimate, making it easier to both socialize with friends and meet new people.
The new setting also created a good opportunity for brand ambassadors to better educate tasters on their spirits. Some even supplied visuals or demos to better explain their distilling process.
While recognizable brands such as Jack Daniel's, Glenfiddich and Woodford Reserve were abundant, there were several smaller, local brands trying to reach a new audience just in-time for pre-High Holiday whiskey shopping.
One local brand was Koval Distillery, the first since Prohibition to make whiskey in Chicago. The distillery is in Ravenswood, just blocks from the Whiskey Jewbilee.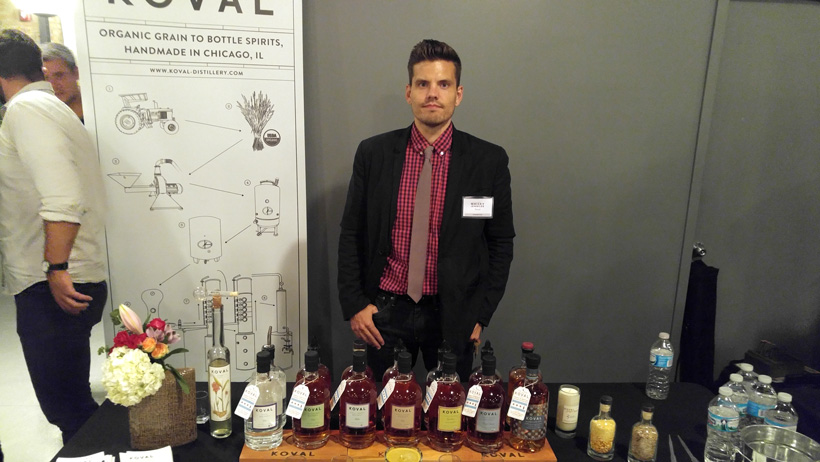 Chicago's Koval Distillery represents at the Whisky Jewbilee.
"During the Jewish holidays, people come by to look for a kosher product," Koval brand ambassador Jake Hukee said. "There are very few companies that are certified kosher across the United States so it gives us a little bit of a different angle and pitch to have in this industry."
Jonathan Bray, founder of Secret Spirits, was another vendor hoping to capitalize on the Jewish drinking scene in Chicago. Despite having ties to Calgary, where he distills a variety of spirits, he saw the Whiskey Jewbilee as a chance to gain awareness in a market he's looking to gain traction in with his major importer stationed in Chicago.
"We thought this would be great to kick off the launch of our product," Bray said.
Having a diverse selection of whiskies is good for the industry, according to Hukee. After micro-breweries became more popular 10 years ago, he believes it's time for distilleries to catch on here as well.
"We're here this year trying to celebrate the spirits industry," Hukee said. "It's awesome to see a variety of whiskies from across the world."