Mason Edelson is not your typical 23-year-old, and Graze Kitchenette -- with a menu pairing burgers and smoothie bowls -- is not your typical restaurant concept. Yet somehow both seem destined for success.
A Skokie native and hospitality management graduate of Kendall College, Edelson has been working in restaurants since he was 16. Once a server and cashier at Ravinia Market, he's now a level II certified sommelier who has been the Maitre'D at both RPM Italian and GT Fish & Oyster.
Now, with Graze Kitchenette, he's working on a "burgers and bowls" concept that will be opening at the buzzworthy Revival Food Hall.
Edelson was inspired to bring this West Coast bowl trend to Chicago after seeing a need for healthier and more energizing food in the Windy City. Smoothie and acai bowls are packed with fruits and usually have toppings such as granola, coconut flakes and honey. Graze's "Damn Good Bowl" is made up of acai berries, raspberries, blueberries, coconut, cacao and granola.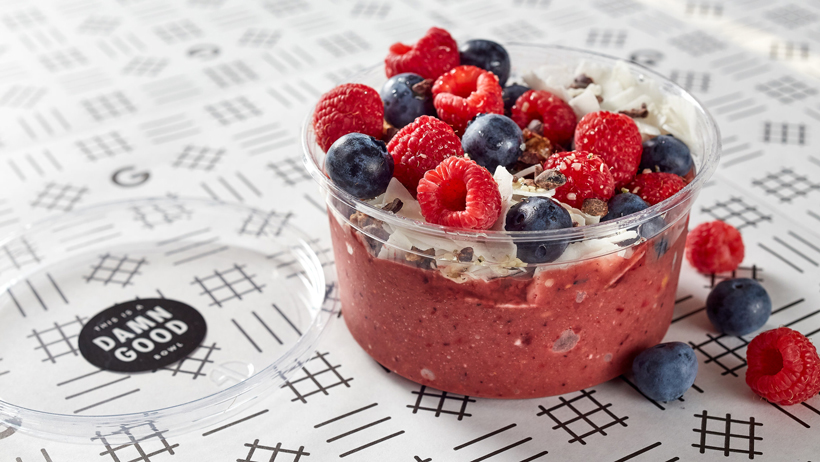 "Bowls are so common in LA, it's like a way of life there," said Edelson, who is also a yoga sculpt instructor and looks for food that supports the fitness lifestyle that he and so many others lead.
Edelson developed his concept with help from his friend and award-winning chef Sarah Jordan. After visiting her new restaurant, Johnny's Grill, the two got to talking. He pitched his bowl idea, and she responded with a pitch of her own. She had been asked to do burgers for a food hall coming to the Loop and wanted him to join in to create the "burgers and bowls" concept they have today.
"The restaurant industry is all about who you know," Edelson said. "Everybody is connected and over the years I've been really lucky to know good people who have been willing to help me, consult, assist, and now collaborate with me."
Revival Food Hall, which opens this week, is a 24,000 square-foot food hall operated by 16" On Center, a restaurant development company with restaurants including The Empty Bottle, Longman & Eagle, The Promontory and Dusek's Board & Beer.
Graze will be one of 15 fast-causal vendors in the hall located on the ground floor of The National, 125 S. Clark Street, a historic 1907 Daniel Burnham-designed building in the heart of The Loop.
Both the burgers and bowls will be made with health and sustainability in mind. Edelson's bowls are vegan and gluten-free, while Jordan's burgers are made from 100 percent grass-fed, antibiotic-free, non-GMO beef.
"The name of our business is Graze Kitchenette, but our legal entity is called Rooted Coalition," Edelson said. "The coalition is between Sarah and me, but we're both rooted in our cultures and our religions. We want to stay true to ourselves and we want that to translate over to our concept."
For Jordan, that means staying rooted in her Irish heritage, and for Edelson it's about honoring his Jewish upbringing and community.
"Jewish geography is a very real thing," he said. "I've found a great support system in members of the tribe. It's just a good feeling to have your roots stay with you and be able to bring them into whatever you do."