Wedding season is upon us, and if you happen to have a lot of Chicago simchas, keep an eye out for the Gold Coast All Stars and their talented percussionist chilling in the back with the groovy long hair and mustache. That's Noah Plotkin -- a rhythmic master and Jew you should know.
A Highland Park native who has reportedly been drumming since utero, Plotkin graduated from the Berklee College of Music in Boston in 2007 and as a professional percussionist has collaborated with a variety of theater and dance institutions and music ensembles, including a few North Shore synagogue tefilah bands. In between gigs, he also teaches music.
In 2013, Plotkin's teaching expanded to all ages and experience levels when he started Life Rhythms with the goal of facilitating health and wellness through the power of rhythmic music. Through Life Rhythms, Plotkin works with seniors in assisted living, retirement and memory care facilities, and also facilitates drum circles for teens, individuals with special needs and corporate groups, emphasizing team-building and self-expression.
In addition to the Gold Coast All Stars, you can also catch Plotkin at Highland Park's "Music in the Park" series from 6-8 p.m. every Thursday between June 16 and Aug. 18 in Jens Jensen Park (across from the Ravinia Metra station), a festival he curated.
This Sunday, June 5, Plotkin will also be performing with the band Shakshuka at the Greater Chicago Jewish Festival around 11:25 a.m. at the Israel American Council stage.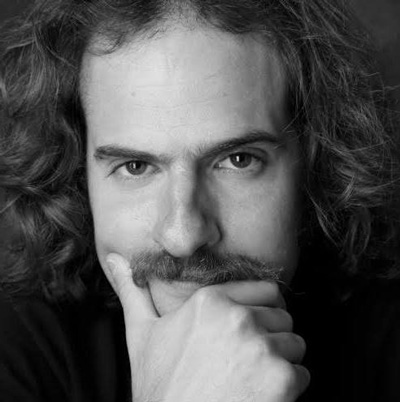 1. What was one of the first moments when you discovered the health/wellness power of rhythmic music?
When I was in high school and I had an opportunity to shadow a music therapist on his rounds at The Sunrise nursing home in Highland Park, I saw the power of rhythm first hand with the elderly we were working with. The music brought smiles to their faces and I immediately knew I was destined to be a part of the musical wellness world in the future.
A few years after, I graduated from the Berklee College of Music in Boston. I had the opportunity to work with my grandfather General William Levine, who served in the Army during World War II and was a liberator of Dachau. When he became ill with Dementia, I started to work with him at his home singing songs and playing guitar along with playing light percussion. I saw firsthand how once music was introduced back into his life he became significantly more at ease. He was able to eat more comfortably and hold objects in his hand with music surrounding him. This particular experience sparked my interest in starting Life Rhythms Inc., a professional organization dedicated to healing and well-being through rhythmic music.
2. You've learned from incredible instructors and taught people of all ages and backgrounds. What's the key to being an effective student and teacher of rhythm?
Listening. Listening to all the sounds and vibrations of life. Being active in exploring the rhythms of the world. Being open to new ideas and acknowledge that we are all a part of a great big world of rhythms, sounds and shared cultural experiences. We can learn so much from other people's music no matter their background or ethnicity. I have learned the greatest rhythms from Brazil to West Africa from Israel to Jamaica. Listening opens one heart to the world around you.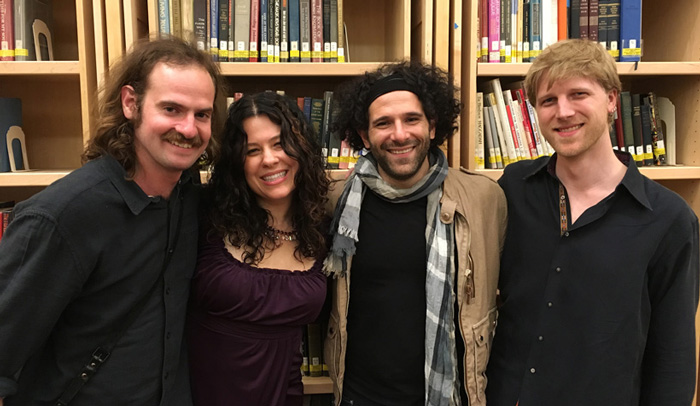 Plotkin with national touring Jewish musicians Neshama Carlebach and Josh Nelson, and local bassist Geoff Shell, following a concert last month in Milwaukee.
3. What ways can synagogues or Jewish organizations bring rhythm into their communities that they might not be thinking of, and what would the benefits be?
Introduce drum circles during Sunday School. Introduce drumming with prayer. In my opinion, adding musical instruments of any kind to a prayer service will just enhance the essential message of the sages by engaging the congregation. It's also fun! It's a great way to involve younger students. Rather than just chanting Hebrew words that many kids have yet to fully understand or don't know, educators should instead complement their teaching of Hebrew and Jewish ritual using hand drumming as a tool to enhance meaning. Drumming is a beautiful medicine for our soul. Drumming grounds us and reminds us of our common humanity; it engages the participant and focuses the senses.
4. What do you recommend for people who want to dabble in percussion and rhythm on their own, whether for skill or personal wellness?
Buy a drum or a shaker and start playing. Join a Life Rhythms Drum Circle and see for yourself! Listen to your favorite songs and drum along to the melodies. Take your family to the parks and beaches and have your own drum circle! Hire Life Rhythms for lessons!
5. If you could play percussion with any great band/artist past or present, who would it be?
Weather Report :)
6. What do you love most about what you do?
Throughout my life I have recognized the power of music to unite people of all ages and backgrounds to build strong and sustainable communities. I believe music is a universal language that reaches across all cultural and demographic boundaries. It is in this spirit that I hope to bring awareness of rhythmic music as a complimentary tool to enable people of all ages to create and maintain good health.
7. In an alternate universe where rhythm didn't exist, what would you do (and why)?
I'd be a whale in the sea. Floating the world's oceans.
8. What's your favorite Jewish thing to do (or how do you Jew?) in Chicago?
I love to play Kabbalah Shabbat services with Congregation Am Shalom & Congregation B'nai Tikvah!! I also love to play percussion for Jewish Weddings with Danny Chaimson & The Gold Coast All Stars!!!!