Readers of a certain age may remember a comedy album, When You're in Love, the Whole World is Jewish. In that spirit, we present a selection of Jewish romantic movies to cuddle up to with your lib gehat eyner -- your loved one -- on Valentine's Day.
What do we mean by Jewish romantic movie? That can be tricky, according to Ilene Uhlmann, director of arts and ideas at JCC Chicago, whose annual Jewish Film Festival will be held March 1-17 at seven theater locations around the Chicago metropolitan area, including the Arclight Cinemas in Glenview and the Century/CineArts theaters in Evanston. "What's Jewish for one person isn't Jewish for another," Uhlmann said in a phone interview.
Case in point: Crossing Delancy. "For some people, to call something a Jewish film, it has to be hit-yourself-over-the-head Jewish," she said with a laugh. " Crossing Delancy has Jewish themes, Jewish stars, Jewish characters; it checks all of the boxes. But when you Google 'Jewish romantic comedies,' what comes up are films with Jewish actors and actresses; that doesn't necessarily make them Jewish."
Which is why, in part, Annie Hall is not included in this roundup. Nor is Late Marriage, which doesn't have the happiest of endings. We're trying to keep things mostly upbeat, optimistic, and romantic!
Hester Street (1975) Carol Kane shines in her Oscar-nominated role as an unassimilated Russian immigrant in turn-of-the-century New York who is an embarrassment to her thoroughly Americanized husband. Her blossoming empowerment is a joy to behold.
Yentl (1983) Of course, Yentl. Barbra Streisand's Oscar-winning (for its score) and Golden Globe Award-winning (for Best Director) adaptation of Isaac Bashevis Singer's story about the daughter of a scholar who, after his death, masquerades as a man to pursue an education denied to the women in her shtetl. This complicates her relationships with a fellow student (Mandy Patinkin) and his girlfriend (Amy Irving), who marries Yentl (it's complicated). Too Jewish? Here's what Roger Ebert wrote: "I don't think so. Like all great fables, it grows out of a particular time and place, but it takes its strength from universal… feelings. At one time or another, almost everyone has wanted to do something and been told they couldn't, and almost everyone has loved the wrong person for the right reason."
Crossing Delancy (1988) Amy Irving (again) stars as traditionally-raised 30-something Isabelle, who is blinded by the glamorous world of New York literary intelligentsia and does not initially appreciate Sam (Peter Reigert), a sweet and sensitive working-class pickle shop owner with whom she has been fixed up by the local matchmaker (Sarah Miles) hired by her bubbe (venerable Yiddish theater star Reizl Bozyk). That may be the most Jewish sentence I have ever written.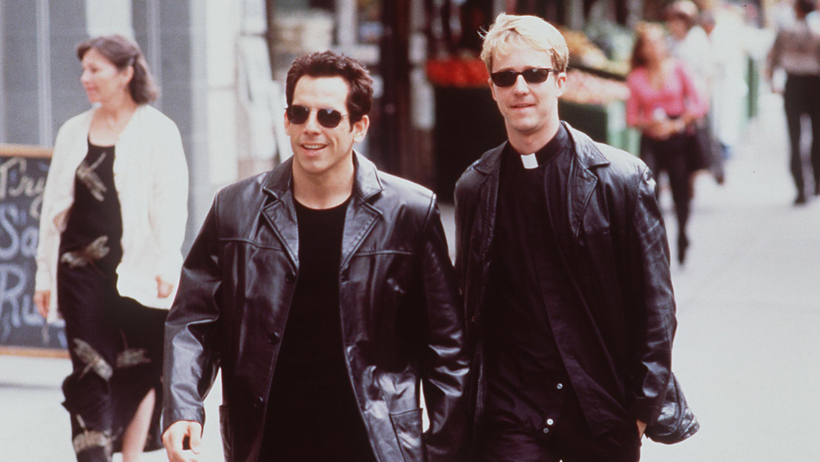 Ben Stiller and Edward Norton starred in Keeping The Faith. Photo credit: Getty Images.
Keeping the Faith (2000) Lifelong best friends Brian, a priest (Edward Norton) and Jake, a rabbi (Ben Stiller) are reunited with their childhood best friend (and non-Jew) Anna (Jenna Elfman). They find their friendship and faith tested when Brian and Jake each fall in love with her.
It Happened in Saint-Tropez (2013) Another favorite on the film festival circuit, this farcical French Jewish family comedy charts the lifestyle and romantic trials and tribulations of the dysfunctional Melkowich family. Two brothers live opposite lifestyles. Roni, a diamond merchant, lives the high life while Zef, a musician, is Orthodox and keeps kosher. Suffice to say, the film opens with a wedding (Roni's daughter) and a funeral (Zef's wife, who is run down by a New York taxi while crossing the street to buy Zef a pastrami sandwich). Noga, the grieving daughter en route to said Paris wedding, meets a sympathetic stranger on a train. The two hit it off. Yep, it's the man who is marrying her cousin.
The Wedding Plan (2016) No, not the Jennifer Lopez romantic comedy, but an award-winning Israeli film about Michal, an Orthodox 30-something (Noa Kooler) whose fiancé breaks off their engagement three weeks before their wedding. Rather than cancel her reception plans, the formidable Michal forges ahead with the faith that God will provide her with a groom.
Keep the Change (2018) This film festival award-winning charmer is cast with non-professional actors with autism. David Cohen is the only son of very wealthy parents (Jessica Walter costars as his mother). He is at the fully-functioning end of the autism spectrum, but his penchant for inappropriate jokes lands him in a support group where he meets the very open and uninhibited Sarah. You may think you know where this is going, but this movie constantly surprises.
Donald Liebenson is a Chicago writer who writes for Vanity Fair.com, LA Times, Chicago Tribune, and other outlets.