Between skiing down a mountain, graduating from university and traveling abroad, it seemed as if I never let my physical disability hinder me from living a full life. Tenacious, strong-willed, empathetic and free-spirited are four words I use when describing myself. However, I wasn't always the bright-eyed individual I am today.
The truth is, from the ages of 15 until about 27, I thought I was less worthy than everyone else. I viewed myself as a burden to others. I believed people thought that I required too much effort to be friends with, that teachers thought I was a burden to have as a student in the classroom, and that employers felt I was incapable of contributing to the workforce. I was under the impression that I was unworthy of extra help and less deserving of a chance to succeed because I had Cerebral Palsy, a physical disability that affects muscle movement, control and coordination. I was so caught up in negative thoughts that I could not see my unique potential. It seemed as if I had forgotten that I had a life filled with love, family, friends and opportunity.
Since the moment I was born my parents fought for my inclusion in mainstream culture and society. My mother refused to let the fact that I used a walker prevent me from being treated like all other children. I was also fortunate enough to grow up in a community where people did not exclude me because I moved differently; I was included in everything from the classroom to birthday parties and beyond.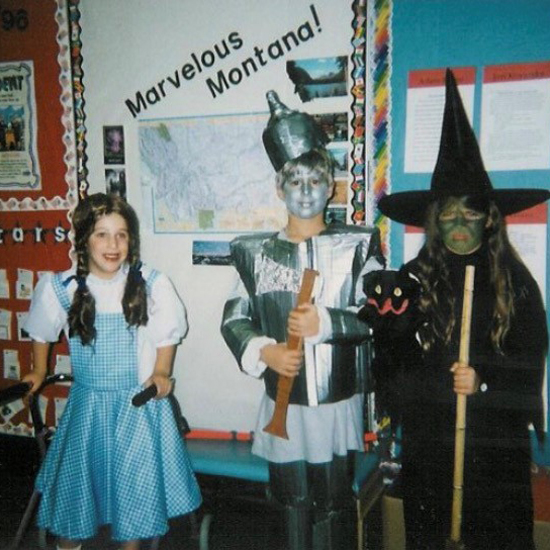 A Halloween party back in third grade.
It wasn't until I was 15 that I started to realize my disability indeed affected how others saw me. One time I was at the Chicago Botanic Garden when a woman who looked to be in her mid-60s approached me.
"What's wrong with you?" she said.
I was so taken aback that it took me a moment to answer. "Ummm," I said, stuttering.
"Oh, you must be challenged," she scowled.
I remember the feeling of my heart falling into my stomach, not because I was sad or angry, but because I felt deep embarrassment for the woman. How can a person possibly think that it is appropriate to call someone challenged?
Usually I am able to shake it off when somebody stares at me or treats me differently. However, I am still human -- sometimes when I am stared at because of my physical difference it makes me feel a little less worthy than a nondisabled person.
As a teenager, I began to realize the discrimination I would face simply because I moved differently. As my worldview changed, so did my understanding of how I -- and others with disabilities -- fit into society.
I would often feel discouraged -- that people would only see my disability and not the many gifts I had to share with the world. There were times I would be doing typical tasks like laundry in my community laundry room when someone would stop me and say what an inspiration I was. How does changing my laundry from the washer to the dryer make me an inspiration? Yes, I should certainly get gold medals for doing typical housekeeping activities, I thought sarcastically.
I wanted so desperately to teach people that my disability was not a hardship or something to be pitied. I knew there must be plenty of people who could see past my disability and give me a chance to shine.
With a little patience and a lot of gumption, I got that chance in the summer of 2009. It happened quite by accident: I was going to eat dinner with my family at a local restaurant when another customer began yelling because he believed I cut the line. My family and I decided to leave, and we went to another restaurant where we bumped into one of my mother's friends. The friend said her sister was looking to hire a camp counselor for the summer and she thought I'd be the perfect fit. This sister was Audra Kaplan, then the director of Jewish Child and Family Services' Camp Firefly, a camp for children with autism and other social and behavioral differences.
I'm the kind of person who believes everything happens for a reason; had we never left the first restaurant and bumped into Audra's sister, I might've never discovered my passion for working with people who have autism. At Camp Firefly, I connected with the campers on a personal level because I too know what it's like to be seen only for your disability. I was dedicated to showing the campers that they were so much more then their diagnosis and that they, like me, could flourish. I worked hard to coax out each of their unique strengths so their abilities were seen and they could reach their full potential.
I worked at Camp Firefly for four consecutive summers, then last summer I found a new opportunity. Audra had started working at Camp Ramah Darom as the director of the Tikvah Support Program, which promotes inclusion for campers with autism and other disabilities, and she wanted me to be a counselor. I eagerly accepted.
It was a life-changing experience. As a representative for Ramah Darom, I got to attend the Ruderman Inclusion Summit, where I had the honor of seeing Mandy Harvey speak and perform. Mandy is a singer and songwriter who happens to be deaf. When Mandy first lost her hearing at age 19, she gave up on her dream of becoming a musician and a music teacher.
"When my dream died I died … The world didn't make any sense anymore. I found myself looking to hold onto the past … Going from the hearing world into a world of silence I have found so much beauty. I have found myself … Learning sign language allowed me to feel like I wasn't the only stupid person in the room … I don't have to feel like I don't understand what's happening. I could be just as part of everything if you give me the tools … I have learned that I'm capable of doing things that other people tell me are impossible … why are they impossible? They are impossible because people tell you they're impossible … It's not impossible it's just not seen so let's show them."
Like Mandy, I have felt as if my own dreams would never be reality. I have felt stuck in a world where people would always feel it necessary to place limitations on my potential. Mandy's speech reminded me that I have the power to enrich the lives of so many people.
Promoting inclusion for people with disabilities has been one of my greatest joys. I especially enjoy working hands-on with Jewish organizations to expand and enrich their inclusion programming and build relationships with the participants and families of these programs.
When we give people with disabilities the accommodations they need to succeed, they will. Society needs to change its view of disabilities from something that needs fixing to something that needs to be embraced and learned from. With this change will come tremendous empowerment and success for individuals with disabilities.
Aimee Halstuk has a bachelor's degree in sociology and anthropology. She's a woman of many passions who particularly enjoys working with children. She also enjoys working with individuals who have developmental disabilities. Aimee currently works for JCC Chicago as a teacher in their afterschool program. During the summer, she works with the Tikvah Program at Ramah Darom as an inclusion counselor and advocates for the full inclusion of campers with disabilities.
For more stories in the "Accepted, Welcomed and Included" blog series, visit oychicago.com/included.