Asha Goldstein's decision to convert to Judaism was not about her. Although becoming a Jew by choice in 2008 played a big role in developing her identity as a Jewish woman, Goldstein's embrace of Judaism was more about adopting a set of values that emphasizes helping others, and bringing her family closer.
"It was almost a family affair," Goldstein said. "We were all participants throughout the process. And then I went through the mikvah and that felt like a new chapter, a new beginning."
These last seven years, she has cultivated a strong foundation rooted in living those Jewish values daily, both personally and professionally, taking every opportunity for tikkun olam and building community.
Since being named to Oy!Chicago and YLD's Double Chai in the Chi 36 under 36 list in 2014, Goldstein has taken a more active role in her synagogue, B'nai Tikvah in Deerfield, recently becoming a trustee on the synagogue board. She said she hopes to learn and grow from the experience and that her involvement will allow new members to feel welcome.
"Hopefully I will be able to engage more people, get more congregants to our synagogue and share the positive experiences I've had," she said. "Hopefully that will resonate with others."
Goldstein also devotes herself to uniting Jewish people throughout Chicago and the world, including through JUF. She recently participated in a JUF Phonothon, which she said allowed her see the true impact of the JUF's work on the Jewish community.
Some of the individuals shared with her how JUF's services helped change their lives. She said that despite their financial struggles, "they still wanted to make some kind of contribution to the JUF campaign because of the impact that JUF made on their life previously."
Lessons learned about helping others and being a caring individual are something Goldstein is also devoted to passing down to her children. She explains one such lesson through the concept of lighting the candles on Jewish holidays.
"We light all the candles from just one candle, which demonstrates the lesson that you can help others and that doesn't take anything away from you," she said. "You can light other candles without taking anything away from your own."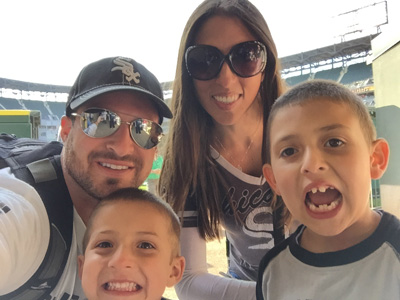 Asha and family at a White Sox game
Beyond her family, Goldstein practices helping others through her work as a managing principal at Cedar Wealth Management, which educates and counsels individuals, including women and others going through divorce, on financial matters.
Goldstein's office will relocate from downtown Chicago to Rosemont, a move she predicts will allow her to reach new clients, while still allowing her to continue assisting those in the city.
Above all else, Goldstein said she enjoys that her job provides her with yet another opportunity to give back to all kinds of people.
"The most rewarding part of my job is helping people at all levels," she said. "Even though we mostly deal with affluent families, all levels need guidance."
To meet the honorees of the 2015 Double Chai in the Chi, Chicago's Jewish 36 Under 36 List, register YLD's WYLD party at 7 p.m. Thursday, Aug. 13 at John Barleycorn in River North, 149 W. Kinzie St.