Permanent link
All Posts
08/29/2011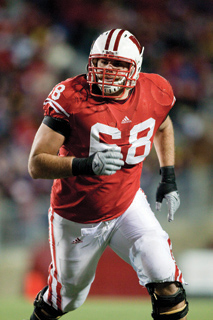 Gabe Carimi  
Before the NFL Season starts, The Great Rabbino wants to look at the most compelling Jewish NFL stories for fans to follow over the season. Here are the top 10 stories:
10) Will Sage Rosenfels see playing time— Rosenfels is Eli Manning's backup, which means he probably won't see the field barring injury. But if that does happen, is Rosenfels truly the Giants QB2?
9) Binn back— Former Pro Bowler Charger's Long Snapper David Binn was out almost all of last season. Hopefully, this ageless wonder can come back to pro bowl form.
8) Pro Bowl punting— Adam Podlesh was last year's pro bowl alternate. This year he is in a new league on a team (our Chicago Bears) that shines on Special Teams. Will Podlesh finally bring some Jewish representation to the Pro Bowl?
7) L.A. Raiders in Oakland or LA? Make up your mind. Several Los Angeles groups want a football team in LA. Rumors have it; the Raiders are going back there. What does this mean for Al Davis?
6) New and improved Redskins— Like every year the Redskins and Daniel Synder make a ton of moves— maybe the biggest by moving huge man (and contract) Albert Haynesworth. Will this pay off? Rex Grossman sure seems to think so by claiming they would beat out the Eagles, Giants, and Cowboys for the division title. Good luck.
5) Can Antonio Garay keep it up— Garay has been a journeyman most of his career. But last year he performed and performed well. Is San Diego finally the place Garay remains consistent.
4) Will Julian Edelman see the field— Two years ago The Great Rabbino blew up in part because of Julian Edelman. Edelman, from Kent State, stepped in for the injured Wes Welker and performed at a high level. Last year, he was a virtually irrelevant. This one time up and coming receiver needs to bounce back and ask Brady for the ball.
3) Can the Bear Jew protect Cutler— The Bears selected Gabe Carimi in the first round for one reason; keep Jay Cutler off the ground. If Carimi is to prove that he was worth a #1 pick, he needs to do just that.
2) Which Taylor Mays will show up— We hear he is in ridiculous shape and we have seen sparks of greatness from Taylor Mays. We have also seen him disappear. With new coach Jim Harbaugh, how will Mays perform?
1) Super team— There is a lot of hype surrounding Jeffrey Lurie's Philadelphia Eagles. Are they a Super-Team? Are they Super Bowl Bound? Eagle fans are praying for a championship, but are they praying hard enough? A lot rest on the shoulders of Michael Vick and all the off-season moves Lurie's Eagles made.
And Let Us Say...Amen.