Permanent link
All Posts
12/17/2009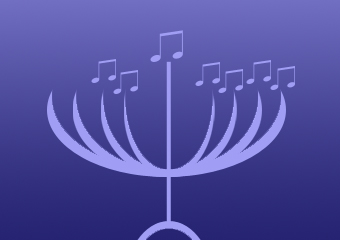 Chanukah music does not begin with "The Dreidel Song" and end with Adam Sandler. There is plenty of great Chanukah music out there suitable for adult tastes. It's just a little hard to find… until now. So here they are— the Top Ten Best Chanukah Albums for Grown-Ups:
1. Alan Eder:  Reggae Chanukah
After a research trip to Africa, Fullbright ethnomusicologist Alan Eder attended a Passover seder back in America and was struck by the similarities he heard in the music of both cultures. He responded with the album Reggae Passover. His follow-up, Reggge Chanuakah, is even better. As the title suggests, it's all your favorite Chanukah songs, and way more, done reggae-style. It's fun, funky, and amazingly well-produced and -performed. I have been reviewing Jewish music for more than a decade, and it's the best Chanukah album I have ever come across. Hear here.
2. Shirley Braha, ed.:  I Made it Out of Clay
19-year-old Indie-rock fan Shirley Braha solicited her favorite obscure bands to create new Chanukah songs. The performers on Clay are based in a dozen U.S. states… plus Canada and Finland, where they know something about winter. Kisswhistle remakes Elvis Costello's "Veronica" into "Verhannukah," and Mesopotamia harmonically laments the passing of a tail-chasing dog named Dreydel. Quirky, provocative, and repeatedly surprising.
3. Woody Guthrie/Klezmatics:  Happy Joyous Hanukkah
Woody Guthrie married a Jewish dancer… whose mother was the great Yiddish songwriter Aliza Greenblatt. Inspired by her, Woody wrote many Jewish-themed songs, performed here by the incomparable Klezmatics. Most are adorable songs Woody wrote for Arlo and his other children. But "The Many and the Few" shows that the man who carved "This machine kills fascists" into his guitar internalized the holiday's message of liberty. Hear here.
4. The LeeVees:  Chanukah Rocks
Adam Gardner, the frontman of Guster, looked at the Christmas song/Chanukah song disparity and wanted to even the odds. So he created an entire new band to write entire new songs, entirely about Chanukah. He cites the Ramones as the inspiration for "Gelt Melts," and The Who for "Jewish Girls (at the Matzoh Ball)," about singles' events. The rest of the album reveals shades of the Kinks, Elvis Costello and other acts whose music makes you think on your feet. As good as any alt-rock on the radio. Hear here.
5. Craig Taubman:  Hanukkah Lounge
Taubman is a one-man Jewish music factory. In addition to his own albums, he has compiled the works of dozens of other Jewish musicians in themed "Celebration" anthologies. This CD is part of yet another series of Jewish-holiday albums, but this time it's all electronica and chill. Great for unwinding during the frenetic holiday season, or as background to a cocktail party. Hear here.
6. Jon Simon:  Hanukkah and All That Jazz
For a dinner party, though, try these piano jazz versions of familiar Chanukah tunes, presented simply and elegantly. The only sound is Simon's graceful playing. There are also three originals the capture the warm flicker of the candles. Speaking of fire, it's also perfect for sitting by the fireplace. Hear here.
7. Erran Baron Cohen:  Songs In The Key Of Hanukkah
Erran did the music for his brother Sacha's movie Borat. This music is all over the map. Most of it uses the Balkan Beat Box "throw everything in the pot and set it to boil" recipe. Klezmer, hip-hop, acoustic folk, Timberlake-esque pop, they're all here. Israel's Idan Raichel, Ladino singer Yasmin Levy and rapper Y-Love stop by to show the range and history of Chanukah's freedom message. Hear here.
8. Various Artists:  A Chanukah Feast
Do you like snark? Then you'll like this irreverent CD. The Hip Hop Hoodios rap in English, Hebrew, Spanish, and Ladino; here they present a hip-hop version of a Ladino Chanukah standard. Another standout track is folkie Chuck Brodsky's p.o.'d "On Christmas I Got Nothing." The rest includes a heaping helping of experimental klezmer, and way more Jewish country music than you'd expect. Volume II is more of the same. Funds raised go to bring music education to poor kids. Hear here.
9. Various Artists:  Festival of Light
A nice variety. The breakout song here is a duet between Israeli superstar David Broza and American alt-rocker Peter Himmelman, "Lighting Up the World." Marc Cohn stops walking in Memphis long enough to chime in with his version of "Rock of Ages." Jane "Calling All Angels" Siberry is here, too, as is Don Byron, an African-American klezmer clarinetist. The collection is rounded out by the famous Klezmatics and the should-be-famous RebbeSoul (check out his Fringe of Blue album). Volume II is jazzier, with Dave Koz, Frank London, Wayne Horvitz, and Yiddish singer Chava Alberstein. Hear here.
10. Various Artists:  Chanukah Celebration
This one's mostly folksy and laid-back. Mainstream acts like Barenaked Ladies contribute, and it's also a great introduction to some of the best Jewish singers today, like Julie Silver, Rabbi Joe Black, Judy Frankel, and of course  Debbie Friedman. The Marc Cohen song and the Broza/Himmelman duet are here too… as are songs from the LeeVees and Woody Guthrie/Klezmatics albums, so if you are unsure if you want to get those whole albums, you can start with this one. Hear here.
So there you go. Now, no more complaining about how there's no good Chanukah music!