Permanent link
All Posts
11/10/2009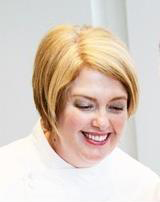 I think the concept that best explains how I think about food is the notion of Cucina Povera. This Tuscan concept is one born out of humble and peasant ingredients both afforded in the region of Italy and grown locally. The phrase Cucina Povera means "poor kitchen." The idea is almost more of a technique and way of thinking rather than just a bare cupboard. Leftover bread becomes a thickener and method of stretching soup; yesterday's pasta becomes today's soup and so on. Cucina Povera is the way many of our grandparents functioned in their home kitchens and similar to the way many chefs work in professional kitchens.
In the kosher kitchen we only have so many ingredients to work with, both at home and professionally. Many ingredients that most chefs take for granted are not part of my daily repertoire due to kosher restrictions. I have a meat and pareve kitchen and cannot just add cream to a soup or sauce to thicken it. I have to work a bit harder and find other ways that fit into the kosher laws. I do not believe in using faux foods for substitutions and look to natural ingredients that are already kosher and in season. In the spirit of Cucina Povera I embrace my constraints, accept the materials I have to work with and move on. I always say that if a recipe cannot be made without completely mutilating it, then do not make it. I have never put soy crème brulees on my menus and never will. I also do not sell faux crab or mock sour cream. Real sour cream is amazing and who doesn't love crème brulee? I know I do after a dairy or pareve meal. The artificial stuff doesn't come close and I have too much respect for my ingredients, clients and family to ever serve ersatz food.
Kashrut is all about making choices—not getting around them with cheap imitations. Do as the Tuscans do and look at what is growing locally and in season. Make the most of it and Buon Appetito!
Here is a delicious seasonal recipe for a killer Tuscan pumpkin soup—enjoy!:
Italian Pumpkin Soup (Crema di Zucca)
There are as many variations of this soup as there are shapes of pasta in Italy. This festive, seasonal soup makes a great alternative to the more common butternut squash soup in a hollowed out pumpkin for a dramatic presentation. Add toasted pumpkin seeds (pepitas) for a crunchy garnish.
8-10 servings
7 cups plus 1 cup vegetable stock
1 ounce. dried Porcini mushrooms
1 7 pound pumpkin, about 5 cups peeled and diced pumpkin (look for Sugar Pumpkin) or 3 cups canned pumpkin puree
12 Cipollini onions, peeled and cut in quarters
1 teaspoon freshly grated nutmeg
1 medium head Savoy cabbage, very thinly sliced
½ cup heavy cream
Parmesan crisps-see below
½ Amaretti crumbs, (these Italian cookies can be found at most Whole Foods or gourmet stores)
1. Place one cup of vegetable stock in a small saucepan with the dried porcini mushrooms. Bring to simmer. Turn off the heat and set aside.
2. Brown the diced pumpkin if using in batches in a large sauté pan lightly coated with olive oil. Be sure to season each batch with salt and pepper. Transfer the browned pumpkin to a saucepan or stockpot.
3. Add the cipollini onions in the same sauté pan adding more olive oil if necessary. Brown the onions until they are caramelized and golden (about 5 minutes).
4. Add the stock, porcini mushrooms, soaking liquid and nutmeg to the slow cooker. Cover and simmer until the pumpkin is very soft (about 1 hour) or if using canned pumpkin, simmer for 30 minutes. Puree the pumpkin in batches adding more liquid if necessary.
5. Add the cabbage and the cream. Simmer for 30 minutes or until the cabbage is very soft and creamy. Adjust the seasoning. Garnish with parmesan crisps and amaretti crumbs and toasted pumpkin seeds right before serving.
Parmesan Crisps
These salty, nutty crisps can be baked several days ahead of serving and kept at room temperature in an airtight container.
8 crisps
3 ounces Parmigiano-Reggiano, grated
1 tablespoon freshly ground black pepper
1. Preheat oven to 300 degrees
2. Line a baking sheet with two sheets of of parchment paper. Place 2 tablespoons of grated cheese in mounds on the baking sheet. You should have 8 mounds.
3. Flatten each mound with the back of a spoon and sprinkle them with pepper.
4, Bake for 5-6 minutes until lightly golden. Allow the crisps to cool before handling.
Chef's tip for holidays and everyday
The task of peeling pearl onions and shallots is enough to make anyone swear off of using these flavor-packed, gorgeous dish embellishments.
A simple chef trick is to blanch them in boiling water first and then their little "jackets" slide right off.
Bring a large pot of water to the boil. Place the onions, shallots or garlic in a heat proof colander or strainer. Place the strainer in the boiling water. Blanch the vegetables for 2-3 minutes.
Meanwhile, fill a large bowl with ice water (you want it large enough to accommodate the colander with the onions in it). Remove the colander from the boiling water and place it in the ice water. This process is called "shocking". It stops the cooking process. Allow the onions to cool completely. Remove the onions from the water. Cut a small end from the tip off and the skin should slip right off.