Permanent link
All Posts
08/11/2009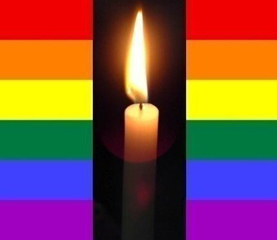 Last night's vigil at Congregation Emanuel for the victims of the Tel Aviv tragedy was a quiet one. It was filled with peaceful poetry and prayers, including traditional memorial prayers and those for healing for the people who were killed and wounded in the awful shooting that took place just a week ago. The community came together very quickly to create a service organized by Rabbi Larry Edwards of Congregation Or Chadash and featured both Jewish and non-Jewish leaders from the area.
Participants in the service included: Rabbi Larry Edwards (Cong. Or Chadash), Hon. Orly Gil (Consul Gen. of Israel to the Midwest), Rabbi Michael Balinsky (Chicago Board of Rabbis), Rabbi Shoshanah Conover (Temple Sholom), Jeryl Levin (New Israel Fund), Rabbi Rebecca Lillian (Limmud Chicago), Rabbi Brant Rosen (Jewish Reconstruction Congregation, Evanston), Judith Golden (cantorial soloist, Cong. Or Chadash), Aaron Frankel (principal, Cong. Beth Israel, Munster, IN), Rev. Kevin L. Downer (Metropolitan Community Church), Bishop James Wilkowski (Evangelical Catholic Diocese NW), and Cantor David Reinwald (Temple Anshe Sholom, Olympia Fields).
The service was well-attended and there was an outpouring of support from the wider Jewish, LGBT, and other religious communities.
May the memory of those tragically murdered be for a blessing and we wish a refuah sh'leimah, a full recovery, to all of those injured in this brutal attack.
Sponsors of this Chicago program included Congregation Or Chadash, Emanuel Congregation, the New Israel Fund, Jewish Council on Urban Affairs and the Jewish Federation of Metropolitan Chicago.