Permanent link
All Posts
09/03/2014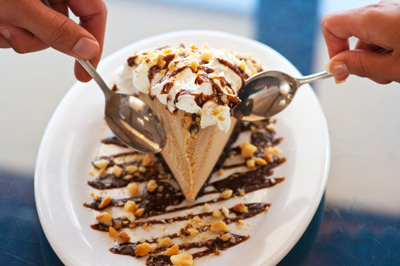 Who tells you not to eat the last bite? Who forces you to split a dessert instead of eating your own? And who makes you work out when all you want to do is watch television and veg?
According to my wife, that person is "the most annoying husband, because sometimes you want to eat your own piece of cheese cake."
Ok, not quite the answer I was looking for when I told her what this blog post would be about, but she has a point. Sometimes that voice is an outside voice, but most often it has to come from within.
When I want to skip the gym, hit a food truck with a coworker, and follow it up with a delicious (warmed up) Specialty's Cookie, I use self-speak. That might sound crazy, like I've read too many self-help books, or watched too much Oprah, but that inter dialog, or mantra, helps.
You do not always have the benefit of a trainer or husband annoying/motivating you to be healthy. In those situations, I channel my inner Tony Robbins, and tell myself:
1. I can't be the fat trainer
2. I already had Peanut M&Ms
3. Exercising wakes me up
4. Desserts are made for sharing
I remember in high school my friend would pound his chest before each set. It was a little extreme, but it was a catalyst to work hard. I recommend creating your own motivators, like thinking about being healthy for your family, and visualizing them when you want to skip your workout. Have a few mantras in your back pocket. No one has to know you are telling yourself:
- Kings don't eat candy bars
- Warriors workout
- Fight fat
Your expression does not have to be an alliteration. It can even be a song. Many athletes listen to music to pump themselves up for a workout or game. Numerous studies have shown that listening to fast-paced music while exercising increases the intensity of the workout. It's impossible to listen to "Eye of the Tiger" without getting energized. I don't care if you are using vinyl, 8-track, or cassette tapes – find some motivating music. When I need some music motivation I turn to the following artists:
- Eminem
- Notorious BIG
- Jay Z
- Beastie Boys
You can even Google workout music. There are tons of free soundtracks to get your muscles moving. Your homework is to figure out what motivates you, and use it to stay focused and achieve your goals.
And remember, if you really want an entire piece of cheese cake, call a friend, or me.