Permanent link
All Posts
5 Things on My Summer 2014 Bucket List
06/25/2014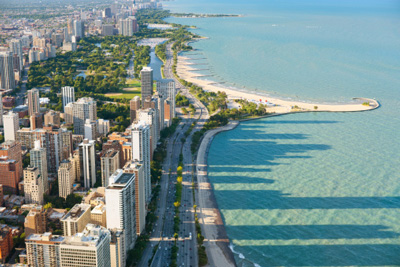 Waiting in bumper to bumper traffic, our car creeps towards O'Hare. It's the first weekend of summer, but it doesn't feel like it. We are collecting my little sister (though I don't know if I can call 24 "little") from the airport after her Birthright Israel adventure. As she sleepily launches into her trip details, the better part of me intently listens while the daydreamer within wakes right up. Hearing her recall little moments at the Wall, at the beach, in the desert, stirs my memory in that particular way. Suddenly, six years ago (the time of my Birthright trip) feels much closer. I feel the weight of old fond memories come to the surface in my mind. And all of a sudden, the travel bug bites.
After a begrudgingly long winter, summer is finally here! When anyone from out of town asks about Chicago, the phrase "amazing summer city" comes out of my mouth more often than not. As I write this, I peer over my balcony onto the Chicago River. Even without Rahm's supposed plan to light up the river to turn it into an otherworldly tourist attraction, it's so perfectly pretty. I've lived next to the river for two years and never once has the view of the twinkling Marina City Towers gotten old. I am a Chicago girl, born and raised. But sometimes, wanderlust tugs at me with great urgency.  
I find myself thinking of a new journey to take or wondering why I haven't hopped on a plane in a while. I fixate on the possible logistics of another trip to Europe, to Asia – anywhere. But, like I said, summer is starting up in these here parts. Maybe it's time to channel some of that travel-hungry energy into discovering (and rediscovering) my home city. So I've put together a mini bucket list for the summer comprised of places I've been, places I want to go and places I look forward to checking out for the first time.
1. Events at Millennium Park
Easily the number one perk of living in the Loop is the proximity to Millennium Park. I've been enthralled with the park since my first visit, dating back to high. It's chock full of tourists, locals and fans of bean-shaped architecture alike, and the mixture allows for some of the best people-watching in the city. One of the key attractions of the park in the summer is its fantastic lineup of free concerts ("Downtown Sound"), featuring acts spanning many different genres like My Brightest Diamond, Joe Pug, Maps & Atlases and a whole host of other fantastic acts. Another series I want to check out is "Millennium Park Presents", a showcase of theater, symphony music (what is the Pritzker Pavilion if not a magical venue for a little night music?), dance and other fine arts spectacles. Full schedule here.  
2. The Low Line Farmer's Market
For the past two years, I've called the Loop home. Later this summer, I'm moving up to Lakeview and I'm definitely ready for the change of pace. The other day, I was taking a walk in my new hood and noticed a little farmer's market just under the Southport stop, the Low Line Farmer's Market. Do I secretly want to make friends with all of the vendors and carry home flowers every Thursday from my neighborhood market, European-style? But of course. 
3. Concert at Northerly Island
The summer after graduating college, it felt like every few weekends or so my friends and I would make a trip to Northerly Island to see a show, my personal favorite being John Mayer circa 2009 or so. The years have flown by and I haven't made it back in quite some time. While the summer lineup is definitely college-friendly (ahem, Dave Matthews Band), the view of the city from the FirstMerit Bank Pavillion is simply stellar. Watching the sunset over the skyline while listening to live music—that's what I call a quality summer night in Chicago.
4. Adler Planetarium
Talk about a tourist attraction with a view. The Adler Planetarium building and its surroundings jut out into the lake, and the view from the front lawn is just priceless. Looking up at the "stars" in the auditorium, daydreaming about the world around us is a fun experience that's slightly different from the every day. A trip to the cosmos is needed sometimes, just to get away from it all, don't you think?
5. Trying New Restaurants
Chicago's catalog of new and exciting restaurants is robust, to say the least. Finding the newest place for this great dish or another can be a fun summer game. Little incentives help, like A La Card. I bought A La Card last year on a whim at a craft fair or fest. It's a deck of cards comprised of 52 restaurants, each with their own $10 gift certificate – quite the steal. At 20ish bucks (I believe I bought my deck on sale), it's incredibly worth it. So, I will hit the city with my A La Card deck and take advantage of the great independent restaurants the Chicago has to offer. I can't wait!