Permanent link
All Posts
03/14/2014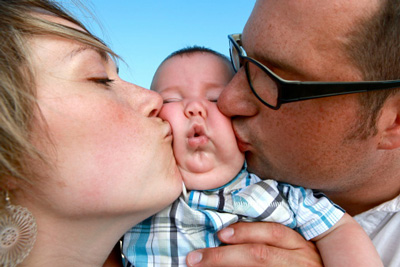 I'm gonna be a dad!
Woo hoo! Yipee! Yep, cue the cheesy song and slow motion fist pump, the one-man horah, etc. That was me, almost six months ago.
In the beginning, I was overcome with joy. After we married, my wife Ashley and I decided to start a family right away. We were completely blown away with both the miracle of our pregnancy, its timing, and how smooth it's been from the start. Ashley was in denial, of course, and so we had to take the pregnancy test twice, just to make sure. Somehow, though, Ashley strongly felt that day that the test results would change overnight to negative, and that this was all a dream. I was already singing into her belly, tears of joy streaming down my cheeks. What a miracle, I kept thinking. What a miracle.
Everyone's right: you're whole life perspective does change in an instant, once you know that you are bringing another life into this world and are responsible for its nurturing, upbringing and guidance through life. This news can be both exhilarating and a little scary. Let me tell you why it was especially true with me.
The moment I knew I was going to be a father, or at least when the idea of becoming a father was more than just "talk," I did what I think most Jews end up doing: sit back and brace for the nonstop barrage of advice from the family. But aside from the overwhelming family support, another reaction I had that I'm sure many can identify with is trying to accumulate as much information as possible on the subject at hand, so as to be best prepared and capable of handling any situation that arises. Well, I learned pretty quickly that while you really don't stop learning, it's nearly impossible to prepare in every possible way for the arrival of a baby.
But that didn't stop me, so I began scouring the Internet for daddy resources, including advice for Jewish dads-to-be. Out of the several dozen websites that I perused and analyzed, Men's Health Dad and Kveller rose to the top. Titles such as "30 Ways to Be the Best Dad Ever," "5 Smart Ways to Raise Your Kids" and even "How to Cradle a Baby" caught my immediate attention, sincerely showing dads some practical and philosophical ways to improve and enhance their abilities as a parent. One of my favorite articles was babycenter.com's  "7
Fears Expectant Fathers Face" and went down the list to see how many of these fears I have.
Security fears
Absolutely! Everything from providing enough income and space for my family and I to grow and live comfortably, to the newfound emotional support and presence I need to have as a father. Am I ready for my wife and child to lean on me?
Performance Fears
Not that kind of performance! The article quotes the performance anxiety many of us encounter during major life events, such as concerto, graduations and baby deliveries. Good thing statistics say only 1 of 600 men passes out in the delivery room, and only because of air conditioning failure.
Paternity Fears
Not the baby's daddy? The thought never crossed my mind and I can't relate to this fear.
Mortality Fears
I plan to have a mid-life crisis, just like any middle-aged parent. Other than that, the prospect of having a child makes me feel younger and more alive, not the pending death sentence we all encounter at some point. Judaism does a great job of keeping the focus on the present moment, on the life cycle event at hand and respecting each aspect to the life cycle. Reminds me a lot of Harry Chapin's "Cat's in the Cradle."
Fear for Your Partner or Child's Heath
I couldn't believe when I read that when our grandparents had children in the 1920s, the main cause of death for women under 50 was childbirth. Thank goodness, both baby and mommy are 100 percent healthy and doing well.
Relationship Fears
This actually began when we brought our puppy Rebbe home; for the first six months it was all about him, and he was all about her. Boy, did I feel like the third wheel like never before! Ashley and I agree that raising a child requires a partnership, so hopefully neither of us will encounter abandonment issues when the other is with the child, especially when shopping for the absolute cutest PJs to wear to bed.
Fears of "Women's Medicine"
No, I didn't make this category up, it's for real. OBY/GYN may not be every man's forte, but I refuse to let something I do not fully understand dissuade me from supporting my wife and doing everything in my power to learn and to feel comfortable at the appointments and classes.
As I prepare for the arrival of my newborn child, I have learned many lessons along the way. But I've learned an important lesson through these countless hours of research, classes and being by my pregnant wife's side the last many months. In my pursuit to become the best prepared Jewish dad possible, I discovered that I already have all those qualities without having to search high and low for the wisdom of some far-away spiritual guru or "Fatherhood Expert." I have surround myself with friends, family and a strong Jewish community that not only provides support to me and my wife, but also grants me access to countless generations of baby-raising wisdom. I was blessed that my parents provided me and my siblings with a rich, immersed Jewish experience from the moment we were born, helping to shape us to who we are today.
Fatherhood is something I have looked forward to since I was a young boy. I look forward to those precious moments when I am able to share and fully immerse myself in being a Jewish father to my child. I imagine myself reclining in my lounge chair, my child on my lap, reading Jewish stories (in Hebrew, if possible) and showing her the beauty and wonder of our religion and culture. I can picture myself showing my child how to welcome Shabbat, spell her name in Hebrew, and make tasty hamentashen. I will watch my child grow from newborn to adult in an instant, and can see in my mind all of the memories paved along the way. I only pray that I can lead my child down that path safely, happily, and Jewishly.
L'Chaim!