Permanent link
All Posts
For Rosh Hashanah
08/26/2013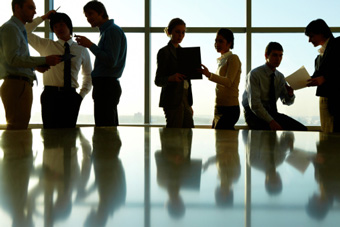 In my mind, the words circle in a constant loop as I look out onto the river, look across at the Marina City towers. Everything is calm, save for the butterflies in my stomach. Every change is a leap of faith, big or small. You trust you'll land on your feet. You take stock in your competence, your strengths. Deal with your weaknesses later. It's time for a change.
Hands folded in my lap, I sit on my balcony and try my best to be brave, to adopt my mantra. It's the night before starting my new job. For one reason or another, transitions aren't my strong suit. I'm not good at navigating the in-between. I'm neurotic, what can I say. I have shpilkes, that's for certain.  
I'm always anticipating the end or the beginning of things. Often I'll try and picture the future as a map … plot out the points, delineate a new path or two, but as we all know, that's all for naught.

Thinking about the days ahead, I feel a bit frenzied when I consider entering a new work environment, the lone new staffer. I consider navigating the sea of undefined expectations and wonder if I made the right choice, to leave a job that suited me as well as it did, for a job that is more out on a limb for me,  but I have faith will be satisfying, challenging and fulfilling.
I shake my head, shake the feeling. I remember a few years ago, sitting on my bed in Grenoble, France, recalling a time when I felt very much the same. I'd just moved across the ocean; some would argue without thinking it all the way through.

Thinking about finding new friends, jumping through bureaucratic hoops, working in a school environment, which I hadn't done before … the totality of what I took on by myself seemed overwhelming those first few weeks. I remember, clear as day, a point where I didn't feel scared anymore. Sitting on my cheerful white and yellow polka dot comforter, holding myself together. "Be brave." It was the only resonating thought. I didn't have a choice. And so I was.  For me, it's all about energy and patience. Taking time to learn about others, alternating taking the lead and going with the flow.
Moving toward the Jewish New Year, there's so much "new" to think about: new family members, new jobs, new things to celebrate, new tasks to take on. It's a good time to realign and regroup.
Last year was a busy one. It was a whirlwind of adjusting to city living, a reverse commute, trying to make time for this that and the other. So basically, nothing too out of the ordinary. I look forward to taking advantage of the extra time I have in my day to refocus, to tackle some things I haven't been brave enough to tackle in the past; to invest some stock in the power of positive thinking and hope for the best; do something that takes me out on a limb; do something that makes me nervous.
Here's to a sweet new year, and here's to figuring it all out along the way.