Permanent link
All Posts
06/18/2013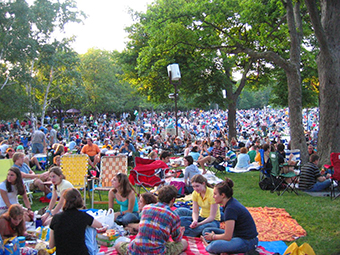 Ravinia lawn
Living in Chicago can feel like a real burden at times. I find that I am always working to defend us to my friends and family from around the country. We have the Cubs (let's not go there), hot dogs without ketchup and a pretty serious winter. I have a hard time when it comes to defending the state of baseball in this city and I try to keep my mouth shut when it comes to the ketchup on hot dogs debate. Surprisingly, winter is the only one of these situations that I am confident has a solution. There is nothing about winter in Chicago that cannot be solved by summer in Chicago.
Summer in Chicago is magic. Cabin fever gives way to summer hysteria and suddenly we're all outside. It's funny how quickly you forget the pain of all that snow and ice. When the gorgeous weather finally visits us, we're all so excited that we forget everything about wet frozen feet and heavy winter coats. Those winter nightmares are further erased the moment you find yourself at an outdoor festival.
Chances are that you will find yourself watching a movie in Millennium Park or enjoying a concert at Ravinia. Both of these activities and dozens like them mean that you'll also be piecing together a potluck with friends.
Fear not! I am here to rescue you from being forced to purchase another plastic box of potato salad from the Jewel on the corner. Not that there's anything wrong with that potato salad, it's perfectly delicious—I just think it might be time to step up your picnic game. Show off! Become the picnic maven you've always wanted to be.
I've got three super easy to make suggestions for your next trip to the beach, Ravinia concert or whatever picnic situation you might find yourself in this summer. You'll look like a genius and you won't have to break a sweat.
1. Lemon Icebox Pie
This is a really delicious summer pie that you'll need to plan ahead for. It needs a night in the fridge.
INGREDIENTS
1 (8oz) tub of Cool Whip
1 (14oz) can of Sweetened Condensed Milk
½ cup of Lemon Juice
DIRECTIONS
Mix everything together until smooth and then pour into a store bought graham cracker pie crust. Refrigerate over-night.
2. Fruit Dip
This fruit dip is pretty spectacular. I love it with fresh strawberries, but it would taste great with an empty spoon.
INGREDIENTS
1 (8oz) package of cream cheese softened
1 (15 oz) jar marshmallow cream
DIRECTIONS
Blend cream cheese and marshmallow cream with a hand mixer until combined.
3. Poor Man's Sangria
Everybody needs a little summer drink. You're going to read this and make a face, but I promise you it's yummy.
INGREDIENTS
1 bottle of wine (any variety will do)
1 (2L) bottle of Coke
DIRECTIONS
Mix these two together and enjoy. You can really play with the flavors here. You could do a white wine with an orange soda. Maybe a Cherry Coke with a Cabernet? It's a matter of personal taste. This is a game of mix and match. Enjoy!