Permanent link
All Posts
05/10/2013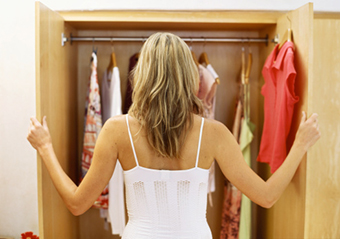 A couple months ago I wrote about "pushing the fashion envelope" and taking risks with personal style. This post is meant to be a slight addendum to that one.
I agree with all that I said back in February, and I definitely think taking fashion risks is empowering, but since writing that post, I have reflected more on my personal style. I have realized that there's a uniform quality to it, and actually, I'm learning to really embrace it. I'm proud of how I express myself through fashion and what makes me comfortable in the work place and in the rest of my life.
I've realized when I was younger, especially in college, I had a lot of mental space to devote to constructing one-of-a-kind outfits in my head and spending significant time in the mornings putting it all together. This was more or less a hobby of mine but, alas, cannot be right now. I have a lot swirling around in my 28-year-old world here in the city and my reality is that I do not have a lot of time I can devote to coming up with the perfect outfit day after day after day. I need easy, chic and simple pieces at the ready to mix and match and throw on, allowing me to easily construct an appealing outfit in a short period of time. I may not wear the most revolutionary, perfectly orchestrated combinations of clothes and accessories every day, but my ensembles are chic and effortless, and multi-purpose—transitioning nicely from day to night.
When I wrote my last post, I was struggling with accepting how my life has evolved and impacted my fashion choices. But since then, I have embraced my current reality and have actually given myself a pat on the back. I've learned how to manipulate fashion into something quick, simple, but still very chic, and I've set this system on re-peat for day-to-day dressing ease.
Ladies, below I have listed things I've learned women need to invest in for effortless, chic style throughout any season. Add to these items a few trendy accessories and you will never have to stress about how you're going to look if you oversleep and have a half-hour to get out the door for a packed day of work and social commitments.
- Silk blouses in a variety of colors
- Pearl earrings
- The perfect, go-anywhere skinny jeans
- One-to-two pair(s) of neutral and very comfortable ballet flats
- A statement watch
- A classic durable hand bag like a Longchamp Le Pliage tote
- Wide-leg, light weight trousers
- A pair of nude pumps
- A well-cut vest you can wear instead of a jacket during transitional weather, or in the winter as a layer or in the summer with a tank.
- A classic trench coat
Even if the items I have listed above do not fit your personal style, what I have learned and can really apply to anyone's life and personal style: embrace who you are and figure out how to fit fashion into your life; do not worry about how to fit your life into fashion.
Follow Michelle on Twitter @mrweilstyle