Permanent link
All Posts
05/22/2012
I have been writing about Jewish celebrities for years now, and I have run into a problem. As I look through movie after movie, I keep running into the same names and, while I know these stars aren't Jewish, I kind of wish they were.
So here are the ones I wish were Jewish and why (I will also mention which actor is the closest we get to that ideal, so you can see how far off the mark we are in that area):
Tom Hanks
He's a giant mensch. His movies are some of the few that are both wildly popular and artistically worthwhile. He's capable of both painful hilarity and painful poignancy. And he is able to evoke history as a place in which people lived, not just a page in a textbook. The closest we got: Dustin Hoffman.
Robin Williams
If he isn't the non-Jew who has played the most Jews (turns out, that's John Turturro) he's in the top three. He's one of the few major comedians who don't belong to a minority group (the others include Steve Martin and George Carlin), but he's got the outsider-pathos thing down cold. He's one of the few who started in stand-up and ended up with an Oscar. Plus, he can pull off the accent and beard. The closest we got: Albert Brooks.
Jackie Chan
One area of moviedom in which Jews have been largely absent is action-heroism (at least since Harrison Ford's prime). If we want to claim an action hero, it's got to be the funny one. And it has to be a martial artist for two reasons. One, the two-fisted type typified by John Wayne went out back when Arnold took up politics, if not before. And two, half the Jewish teens I know are black belts. The closest we got: Steven Segal.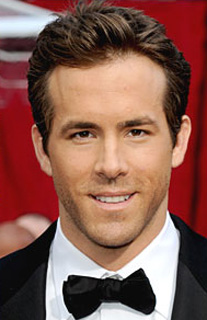 Ryan Gosling or Ryan Reynolds
We only need one! Your choice… since I can't keep track of which one is which, anyway. All I know is that one or the other is always starring in a movie, and they are always the romantic lead and/or superhero, and they don't look like Jason Segel. The closest we got: James Franco and Jake Gyllenhaal.
Ellen Degeneres
I know, I know… she already belongs to a minority group. So? We haven't had a major female comic since Rita Rudner. We have Joan Rivers to live up to, dammit! And as far as sparkling, quick-wittted talk show hosts, here's what we have come up with: Charlie Rose, Larry King, Matt Lauer, and, um, Maury Povich, Geraldo Rivera and Jerry Springer. Nope, not Phil, Merv, Arsenio, Regis, Oprah, Montel, Dr. Phil, Mike Douglas, Dick Cavett or Rachel Ray.The closest we got: Comics- Roseanne; Talk shows- Ricki Lake? Barbara Walters?
Alex "Jeopardy!" Trebek
He's a know-it-all, but you love him anyway. Dapper, quick-witted, and knows how to say it "en  Francé. The last great Jewish game show host was Monty "Let's Make a Deal" Hall. The closest we got: Howie "Deal or No Deal" Mandel and Ben Stein.
Sophia Vergara
So, she'd be Sephardic. I haven't listed as many women because when you already have both Natalie Portman and Scarlett Johansson on your team, you don't want to seem greedy. But we do need some more, um, variety in the Jewish-star line-up.  Neither Sophie "Hotel Rwanda" Okonedo nor Bahar "Crash" Soomekh have been all that active lately. Besides, who would you rather suddenly turn out to be Jewish- Sophia or Ed O'Neil? I remember the rumors that Catherine Zeta Jones was going to convert to marry Michael Douglas; The Forward put her on the cover. Closest we got: Emanuel Chriqui.
Jimmy Kimmel
Aside from Jon Stewart, we have never had a Late Night Host. Nope! Not Jack Parr, Steve Allen, Letterman, Ferguson, Kilborn, Costas, Leno, Conan, Fallon… no one from Johnny Carson to Carson Daly. So we need Jimmy, the most Jew-ish of today's Late Night Hosts. Wonder what Sarah would think if he converted now? Closest we got: Chelsea Handler and Andy Cohen.
Joss Whedon
Look, Steven Spielberg is great and all, but he's kinda all done with the sci-fi thing. His latest movies, "War Horse" and "Lincoln," are part of his historical-war kick that started way back with "Empire of the Sun" or even "1941." Meanwhile, he hasn't directed a sci-fi hit in a decade ("Minority Report" was 2002)… and all he can come up with now is another (sigh) Indiana Jones and something called "Robopocalypse." Meanwhile, Joss is still full of great, new ideas. Closest we got: J.J. Abrams and Aaron Sorkin, who together make one Joss.
Lea Michele
Yeah, we thought so too. Turns out, she was raised Catholic, but is technically half-Jewish. But her voice! Oy, it's like buttah. Closest we got: Idina Menzel, who plays her birth mom.
"Weird" Al Yankovic
Used to be, we had a monopoly on novelty songwriters: Mickey Katz, Allan Sherman, Tom Lehrer, Kinky Friedman. But ever since the '80s, Al has been the eclipse of the genre, blocking out the Sun so that no others can grow. Plus, many people already think he's Jewish because of his job and his name. Closest we got: Andy Samberg (Adam Sandler only has the one song). 
No, none of these celebrities are Jewish. And it's not like we don't have enough celebrities of our own. But sometimes, in a weak moment, I'll think about the holes in our batting order and think, "Oh… if only…"