Permanent link
08/06/2013
Chicago might be questionable in the winter, but when it comes to summertime it is hands down one of the best cities in the country.

Encouraging this strong opinion is the abundance of awesome farmers markets. Almost every neighborhood has its own special twist. With my crazy chef schedule I find myself wandering the city while most people are sitting at a desk. One of my favorite things to do on those off hours is to stumble into the Green City Market. I get way too excited over the wide variety of perfectly ripe seasonal fruit and vegetables and end up with too many on my hands.
A great solution to savor the summer harvest, besides pickling and making jams, is to make soups. I love making zucchini soup. It utilizes all my fresh and local purchases and I find it is a great summer soup. I make it in big batches and freeze it to enjoy in the winter time as well. It is full of nutrients, low in cost, and virtually fat free.
Before I moved out into the big bad city, I was lucky enough to have a small garden at my parents' house. I found zucchini to be a great crop for the amateur farmer. It involves low maintenance and grows great in Chicago's summer climate. The herbs in the soup are also easy and fun to grow at home. I took an old wine barrel that was cut in half, and made it a small herb garden separate from my vegetable garden. I actually found a few of the herbs like mint and rosemary to not only last well into the fall, but they also came back the following summer on their own.
There are so many variations to this soup. I like to take advantage of the farmers' knowledge to really get a feel for what is in season as the summer months go on. In August, besides zucchini, you can find in-season bell peppers, corn, broccoli, cabbage, beans, pears, peaches, berries, grapes and more. The same technique can be used, but bell peppers and a few pears can be substituted for zucchini and maybe leave the dill and basil out and instead add thyme and a small amount of mint. If it is 90 degrees out I may even serve this soup chilled with a few cucumber balls as a garnish.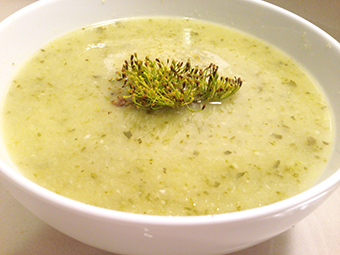 Zucchini Soup
Ingredients
1 T grapeseed oil
3 large onions chopped
6 garlic cloves roughly chopped
6-8 med zucchini with skin, ends trimmed cut into chunks
1 T each fresh parsley, dill, and basil chopped
7 c chicken broth
salt/pepper to taste
Preparation
Heat oil over medium heat in a large pot. Add onions and garlic. Sauté until translucent about 5-7 min
Add zucchini sauté 3-5 min. Add herbs sauté an additional 2-3 min
Add broth, bring to a boil, and let simmer 25 min covered
Blend until smooth. (you can transfer to a blender or I like to do it directly in the pot with an emersion blender
Season with salt and pepper