Permanent link
08/24/2009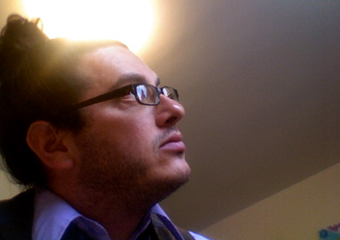 Joshua Grabowsky, AKA "Chef Joshua" became a chef in an "ass-backward" way. Fifteen years ago, he learned in a Zen-type macrobiotic kitchen, more "how to be", than how to cook. He opened the Red Avocado, a 100% Organic Vegetarian Restaurant, in Iowa City, cooked for yoga & meditation retreats, catered parties, and even bussed tables. He started an all organic kids' school lunch program in Chicago, and had his own private chef firm. Now, he is just himself, Chef Joshua, and he cooks for some of the most prominent Jewish families in Chicago & the North Shore. Ahhh…the simple life.
Chef Joshua has many sides, though. He is a kick-ass private chef, a talented drummer and percussionist, an adoring husband, a father of 2 nice little "Jew-ish" boys, an avid Belgian beer & pizza connoisseur, and every Halloween he transforms into his socially awkward Brooklyn Jewish grandma, a.k.a. "Granny"! In his mind, he just launched "Granny's Funky Fresh Jew Food," an underground kick-ass quasi-kosher catering service featuring "King Josh's" dope Jewish recipes (think: salami baby bagel lollipops with giardinera aioli).
So whether you're into cooking, love Belgian beer and pizza, or if your alter ego is an awkward Jewish Grandma, then Joshua Grabowksy is a Jew you should know!
1. What is your favorite blog or website?
Embarrassed to admit it, but…it's Facebook! It's an incredible tool— both personally and professionally. I can post recipes through Twitter to my wall, sell songs, make new friends in South Africa. I mean, what could be better?!
2. If time and money were limitless, where would you travel?
First, I'd travel to Israel. Then I'd go all over Morocco, Tunisia, Ethiopia, Eritrea, then on to West Africa— Senegal, Ghana— to learn all the drum rhythms I could.
3. If a movie was made about your life, who would play you?
Someone girls go crazy for, like Johnny Depp…or Flava Flav.
4. If you could have a meal with any two people, living or dead, famous or not, who would they be? Where would you eat or what would you serve?
I'd cook my Papa Morry a mean brisket, then sit down with him for hours (he ate really slow) and pick his brain about old Maxwell Street, and his famous store, Smokey Joe's. Next, I'd probably pick Jesus— just to see what all the fuss is about. I'd serve him up some of my "Gramma Esther's" challah with yak butter (what the heck did they eat in those days?!). Maybe some Matzo Ball Soup if we found a local chicken wandering the streets.
5. What's your idea of the perfect day?
Great question! Here's the order of the day:
1. Ashtanga Yoga set.
2. Mondo soy hazelnut latte from Metropolis Coffee.
3. Turkey Loretta (no cheese) and crispy hash from Sarkis.
4. Long nap by the beach with my wife, Nancy.
5. Wake up, drum for 2 hours in the sun, while Nancy dances.
6. Skip lunch.
7. Spicy-ass dinner at Ras Dashen Ethiopian Restaurant.
8. Another long nap.
9. A good, long drinking session at the Hopleaf with my buddies, followed by late night Konak Pizza (next door).
10. Finish the night with a little love – if you know what I mean.
6. What do you love about what you do?
For the Private Chef gig… I absolutely love my clients. They are all extremely successful, super cool, happy, and informal people. I love taking normal, everyday family style food, and transforming it into Funky Fresh Jew Food! I also dig the chill pace (as opposed to freakin' out in a restaurant kitchen).
7. What job would you have had if not the one you have now?
When I play music, I am at my happiest. I'm in the flow – completely. I am closest to God.
8. What's your favorite Jewish thing to do in Chicago?
I got two:
1. Go to Shaevitz in Highland Park, buy kosher meat and kibitz with Label, the somewhere-around-90-year- old kosher butcher. He's been a butcher since he was 10 years old. He works 7-8 hours a day on his feet. In my mind, he's a living legend.
2. I love asking any Jewish or black man over 60 years old if they know about Smokey Joe's. I always get a huge smile and a story, or two.