Permanent link
Celebrate the day of love with an icy chocolate treat
08/02/2012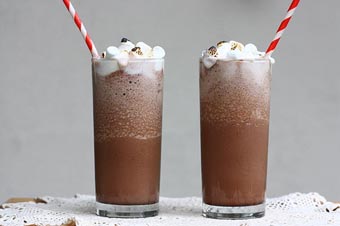 We all know that chocolate can bring out the glint in a lover's eye and that the smooth creamy and sensuous Aztec treat is even good for you, with all of its anti-oxidants and flavonoids, but how do you share the sumptuous chocolaty pleasure when it is blazing hot? There is nothing romantic about a box of melted chocolates.
This Tu'B Av pull out your blender and ice cubes and enjoy a frothy, icy and sexy treat.
In Israel, Tu B'Av is a day of love and while it is a regular workday, music and dance festivals are typically held to celebrate the day. Israelis give cards and flowers to their loved ones on Tu B'Av; and, get married. Hot chocolate can warm your soul and is pure comfort on a chilly day. Iced hot chocolate is refreshing and fun. Be sure to use the best chocolate you can find to share with the object of your affection.

Frozen Hot Chocolate
Serves 4
2 ½ cups whole milk
1 cup half-and-half
½ cup powdered milk
4 ounces bittersweet chocolate, chopped
4 ounces milk chocolate or white chocolate, chopped
1 tablespoon sugar
2 teaspoons pure vanilla extract
1 teaspoon instant espresso or coffee powder
3 cups of ice
Suggested garnishes: vanilla beans, shaved chocolate

1. Heat the milk, half-and-half and powdered milk in a saucepan on medium heat to just below the simmering point.
2. Remove the pan from the heat and add both chocolates. When the chocolates are melted, add the sugar, vanilla extract, and espresso and whisk vigorously. Cool the mix.
3. Place the hot chocolate mix in a blender or food processor. Add ice and process until the texture of a smoothie. Serve immediately.