Permanent link
08/14/2013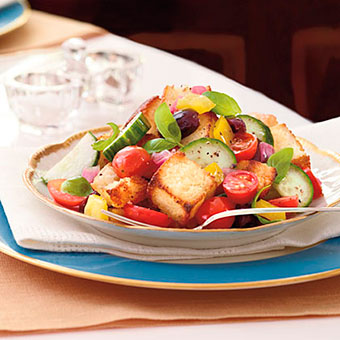 I know how a calendar works, but I'm still having a hard time wrapping my head around the fact that Rosh Hashanah is just around the corner. It feels like someone hit the fast-forward button when we weren't looking. I'll forgo my panic about time slipping through my fingers and try to focus on something seasonally appropriate.
I should probably be getting a little introspective. Maybe I should think about how to change and grow and improve in the New Year. I'm definitely thinking about that stuff for myself, but I'm also thinking about how the idea of renewal could apply to my dinner plate.
What I'm talking about here is a refreshing of the holiday dinner menu. Think about it. How can we really get renewed and refreshed if the menu never changes? I'm not suggesting a Rosh Hashanah taco night, though that could be fun. Did I just hear someone faint? I'm not talking about total menu anarchy, but would a little change hurt anyone? What if a delicious surprise appeared next to your brisket this year?
Don't get me wrong. There are food traditions that go with the holidays that I treasure. I love apples and honey and if brisket had a mouth I would kiss it. The list goes on and on. I just wouldn't be mad if we got brave, threw a wrench into the holiday menu machine and watched as something new popped out. Fried Chicken, perhaps?
Maybe it's just my family who keeps strict holiday menu rules? I doubt it. In the spirit of the holidays, I have a challenge for us. Let's bring something new to the table. Maybe that means a Rosh Hashanah fish boil or maybe it means something a little more personal. My plan is to bring a surprise side dish to dinner and see if anyone other than my mother-in-law notices. I'll probably bring a little taste of summer, like this Panzanella Salad that I am currently obsessed with.
Martha Stewart's Italian Panzanella
(Adapted from Everyday Food Magazine)
1/4 cup red-wine vinegar
1/4 cup olive oil
Coarse salt and ground pepper
2 cans (15.5 ounces each) cannellini beans, rinsed and drained
3 cups large cubes country bread (5 to 6 ounces)
1 pound plum tomatoes, cut into small pieces
1 English cucumber, thinly sliced crosswise
1/4 medium red onion, very thinly sliced
4 ounces Parmesan cheese grated
1/4 cup fresh basil leaves, torn
In a small bowl, whisk together vinegar and oil; season with salt and pepper.
In a separate large bowl combine beans, bread, tomatoes, cucumber, onion, and cheese, then cover and refrigerate for at least 2 hours. Just before serving, stir in basil.