Permanent link
07/09/2012
I am currently in the midst of a week-long Colorado vacation with my boyfriend. We spent the first part of our trip in Vail, moved on to Breckenridge for the Fourth of July, and are now in Colorado Springs for a national conference during which he's speaking. We will move on to Denver for the weekend for some fun in the city.
Aside from learning more about the terrible devastation of the forest fires which, thankfully, are predominately contained in Colorado, I have also been able to hone some new fashion knowledge and styling tips I'd like to share with Oy! readers.
Upon checking into our wonderful Vail resort, The Vail Cascade Resort & Spa, I learned the term "mountain casual" when we inquired about the type of dress expected at the restaurants in Vail Village. Having only made a couple of brief visits to Colorado in the past, I am still learning about this mountain culture and of course, my ears perked up at this intriguing new (at least to me) fashion term.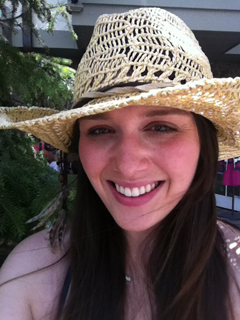 Prior to my trip, I tried to get in the mountain spirit and purchased this awesome summer cowboy hat at one of my all-time favorite stores, Calypso St. Barth, which is on Oak Street in Chicago. I love that the hat is rustic but feminine and incorporates some Bohemian edge with feathers that dangle from the side. I sported it with a simple navy blue cotton Theory sundress at the popular Sunday farmer's market in Vail Village. My look was casual and Western-inspired, blending right into the culture. In Vail and Breckenridge, I had a blast browsing the amazing inventory at the traditional Western-wear stores. A nice and authentic pair of cowboy boots are quite the fashion investment! They usually range from $500 - $1,500 and with the various colors, textures, types of leather and embroidery, they can be true works of art.
In addition to traditional Western-wear, the "mountain casual" dress code incorporates the state's very active, healthy way of life. Skiing/snowboarding, hiking, trail running, and boating, just to name a few activities, are all part of the lifestyle here in the Rockies. The corresponding sporty attire can also be quite stylish, and is worn day-to-day by residents and visitors alike. Stores like Burton, North Face and Spyder line the streets of the resort towns and an array of active-wear boutiques sell countless other lines.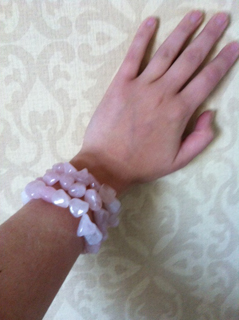 Lastly, I think one of the most fun elements of the "mountain casual" look is the natural minerals and metals from the land that are often incorporated into accessories. I found these beautiful bracelets (3 for only $10) at Nature's Own, an impressive science and nature store in Breckenridge. These will nicely compliment my more urban Chicago wardrobe, adding a natural, rustic twist. In fact, while in Vail, I purchased an elegant cotton maxi dress made by L.A. designer, Bella Luxx at the boutique Luca Bruno. I'm looking forward to combining the bracelets and the dress with a great pair of wedges for an overall summer-chic look.
Evidently, I was inspired by this "mountain casual" style. The laid back yet still polished fashion here is refreshing and unique. In fact, I plan on taking it back home with me to Chicago. I'll wear my cowboy hat out and about on the weekends, and the bracelets will come in handy to add extra punch and interest to plenty of my outfits. I'm excited to return on another trip here to further develop my own version of this look and I'm sure a winter trip will open up a whole new chapter!