Permanent link
06/29/2009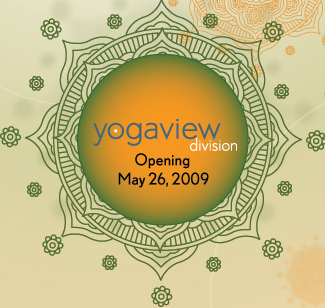 It's finally summertime at Oy! and it seems like many of us have fitness and nutrition on the brains.  Well, I can't resist adding my two cents…
Now that I don't have to spend my workout time on long walks, I've been trying to diversify my workout routines.  While I'm quite sure that I won't be joining Jacey at her Bar Method classes, I have been stepping out of my workout comfort zone and stretching into some yoga.
Why yoga you might ask?  I know it's not some kind of new-fangled exercise a la the Bar Method, but well, I did just walk 40 miles and by serendipity a new, very different type of yoga studio, yogaview-Division, just opened right by my apartment in Wicker Park.
Yogaview-Division is the offspring of the popular yogaview-Elston, which has been offering yoga classes to Bucktown residents for many years.  The Elston location is considered one of the premier yoga studios in the country.  The opening of this second location is a direct result of the current economy it is the first donation-based studio in the city.  The owners believe that "yoga should be accessible to everyone" regardless of ability to pay so instead of charging a flat fee, they invite their class participants to give a donation that fits their budget
I arrived at the studio for a Monday night level 1-2 course.  I walked into the modern, airy room, and had to spend moment figuring out how to pay for my class.  There is a discreet table at the entrance with a small, dark rectangular box with a slit on top to deposit your donation.  That's it.  No one knows how much you give and you're welcomed into the class.  The hope is that those who can afford to give donate more and those who might not be able to pay as much, still attend. 
The studio is fully equipped with mats and other yoga accessories, so all you need to do to take the class is show up!  My class was an hour and fifteen minutes and involved a lot of standard yoga poses with a whole lot of repetitions of downward dog and plank position, a.k.a. my least favorite yoga poses.  I suffered through it and otherwise enjoyed the class, especially the relaxation part.  All in all it was a pretty good experience. 
Molly, the instructor, was incredibly nice and helpful.  She stuck around after class and answered questions.  I got some good advice on ways to stretch my bad knee.  And her stretches have really helped ease the pain.  There's a wide range of courses for all levels, even one for expectant mothers, and instructors to fit any kind of work out personality. 
Now I must admit that yoga is not my favorite workout activity.  I work out, not to be physically fit per se, but so I can justify being a fat kid who eats too much ice cream.  And I just really like my elliptical.  I can hear Ron now, 'you must diversify your workouts to achieve a higher level of fitness' and I'm trying!  I am determined to keep up this yoga thing even though I'm terribly un-flexible and there's way too many push-upesque poses.  Did I just invent two words?
Anyway, I'm not yet really convinced that yoga will help me lose any weight, but maybe it will help with toning.  Though it won't help with is my ice cream addiction.  Yogaview-Division is located directly above Starfruit, a local Wicker Park ice cream and frozen yogurt joint.  A little yoga followed by some ice cream--there's my motivation!
The suggested donation for a yogaview-Division class ranges from $10-$20, but the studio truly stresses the pay what you can policy.  Credit cards are not accepted at the Division location, so make sure you bring cash or check.  To learn more about yogaview and to access the class schedules, visit the site at  www.yogaview.com .