Permanent link
06/19/2013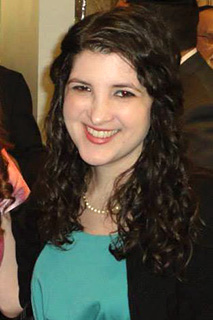 A few weeks ago, I got to pretend like I was 90.
Temple Jeremiah – the suburban synagogue where I serve as the Membership and Communications Director – hosted a lovely "90+ Luncheon," a special event for our congregants age 90 and older.
More than two dozen men and women in their 90s gathered with their guests for an afternoon of quiche, fruit, cookies, and coffee. Our rabbi thanked them for their years of service and dedication to our temple, and our cantor entertained them with her top 10 songs from the 1930s and 1940s. The luncheon attendees swayed and sang along to the music, remembering the songs from their adolescence.
As the luncheon's designated photographer, I was excited to attend this event and get serenaded by songs written more than a half century before I was born (two of which I had actually heard of!). But while I looked through my lens, photographing what would soon become a memory for all of us, I pictured myself sitting on the other side of the camera, age 90, in 64 years.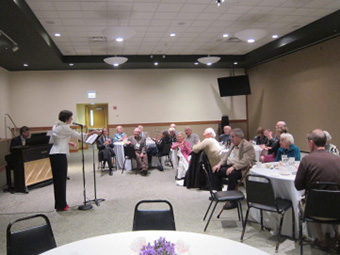 In the year 2076, when I enter my ninth decade, I sure hope that Cantor Amy is still around to sing songs from my glory days.
What would we sing? Here's the event I'm picturing:
We walk through a beaded curtain and enter a room decorated with Disney movie posters. As we sit in our inflatable chairs with bean bag pillows, we nibble on Twizzlers and Fruit by the Foot. Lunch is a frozen Kid Cuisine, with Dippin' Dots for dessert (the "ice cream of the future" had to be resurrected after being out of business for 40 years). We pull out our old iPhones (they still work if you blow on them) to look at old photos we took of ourselves with extended arms. (Not surprisingly, young people of the future have evolved to have extra-long left arms to facilitate these "selfie" photos.)
And then we lean back, a bit uncomfortably and loudly in our inflatable chairs, and listen to the show. Well, really just "watch" the show. We've all lost our hearing after listening to too much iPod music.
The set list:
"Wannabe" – Spice Girls
"Baby" – Justin Bieber
"Baby One More Time" – Britney Spears
TV Medley: Themes from "Fresh Prince of Bel Air," "Full House," and "Sesame Street"
"Since U Been Gone" – Kelly Clarkson (we elders in the room slowly rise to our feet for this crowd-pleaser)
"We Are Young" – FUN (we chuckle at the irony)
"MMMBop" – Hanson
"I Want it That Way" – Backstreet Boys (this song has become the anthem of the older generation to complain about how we would like things to be)
"Tik Tok" – Ke$ha (it turns out that with inflation, she had to change her name to Ke$$$ha
"I Gotta Feeling" – Black Eyed Peas (64 years into the future, the "mazel tov" section of this song is still being played at bar mitzvahs)
At the end of the afternoon, we get a surprise visit from Celine Deon (amazingly still alive) with a performance of "My Heart Will Go On," where we all get to pretend to be Rose at the end of Titanic.
It will be a wonderful afternoon.
So I hope you will all join me for this celebration, 64 years from now, that is sure to have all of our wheelchairs spinning and our canes tapping to the tunes of rock stars before they became drug addicts or politicians.