Permanent link
05/26/2011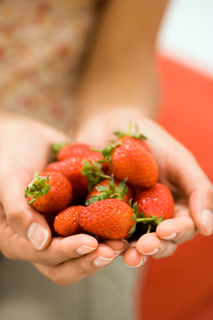 Strawberries are my favorite fruit. They are available all year round, but are really only in season in the North and Midwest in May and June.
There are roughly 30 different varieties of strawberries, the most common being a hybrid. Most people who love the bright red berry have never tasted a wild berry. Wild strawberries are drought, frost and disease-resistant and if you love berries like I do, seek out wild strawberries at your local farmer's markets. They are available June through November.
I only use organic strawberries. The berry is delicate and does not have a skin that can be scrubbed, so any spray that is used in farming cannot easily be washed off.
Strawberry Shortcakes  
My favorite spring dessert is simple and classic. I do not want any bells and whistles in my old fashioned shortcakes, just butter and juicy berries. This recipe is only really delicious with butter and real whipped cream. It is simply not the same with margarine and non-dairy whipped topping. The best berries deserve the best ingredients and this recipe delivers. Short on time? No problem! Make the shortcakes ahead of time and freeze them. Allow them to thaw at room temperature before serving.
Serves 8
2 cups flour
4 teaspoons baking powder
Pinch of salt
1 tablespoon sugar
4 tablespoons butter
¾ cup half and half
Melted butter to brush the cakes
Strawberries
Freshly whipped cream
Heat oven 450 degrees.
1. In a large mixing bowl, combine flour, baking powder, salt and sugar.
2. Cut in butter and shortening. Mix in half-and-half. Drop by large spoonfuls onto a baking sheet.
3. Brush with melted butter and sprinkle with sugar. Bake for 15 minutes or until brown.
4. Cool and eat with berries, ice cream and/or whipped cream.
Strawberry-Rhubarb Crisp  
I love homey fruit desserts. Nothing says comfort like the smell of a fruit crisp baking in the oven. This dessert can be made for Shabbat and can be served cold or warmed for Shabbat lunch.
Serves 6
3 cups strawberries, hulled and sliced
1 cup rhubarb stalk, cut into 1 inch pieces
3 tablespoons tapioca flour
1 cup white sugar
2 tablespoons lemon juice
1 tablespoon lemon zest
Pinch of salt
1. Stir all of the above ingredients together in a large bowl and transfer to a greased 10 inch baking dish.
For the Streusel topping  
2 cups all purpose flour
½ cup white sugar
½ cup brown sugar
2 teaspoons cinnamon
Pinch of salt
½ cup chopped pecans
¾ cup cold butter or non-hydrogenated shortening
1. Place all the ingredients into a large bowl and rub the fat into the flour mixture until large clumps form.
2. Liberally cover the berries with the streusel topping. Save any remaining topping in the freezer for another crisp. Bake the crisp until the streusel has browned and the berries are juicy and bubbling (about 35-45 minutes).
3. Serve with whipped cream or vanilla ice cream, when I make this pareve I serve the crisp with strawberry sorbet.
Crispy Pan Roasted Duck with Strawberry-Rhubarb Chutney  
Strawberries and rhubarb team up again to create one of my favorite combos. This is a spring time favorite. The assertive duck is complimented by the sweet and sour chutney. The dish is mouthwatering, delicious and pretty.
Serves 4
For the chutney  
Olive oil
2 red onions, thinly sliced
1 clove garlic, minced
2 cups rhubarb, cut into 1 inch segments
¼ cup rice wine vinegar
3 tablespoons brown sugar
Pinch of crushed red chilies (optional)
1 cup strawberries, hulled and sliced
¼ cup chopped mint
1. Place a medium sauté pan, lightly coated with olive oil, over medium high heat and sauté the onion until it is dark brown (about 5 minutes). Add the garlic, rhubarb, vinegar, brown sugar and chili flakes if using. Reduce the heat to a simmer and cook for 10 minutes until the rhubarb has softened and the liquid has reduced to a glaze.
2. Add the strawberries and mint and stir to combine. Turn off the heat and allow the strawberries to soften.
For the Duck  
4 duck breasts, skin scored in cross hatches to allow the fat to render
1. Place a medium sauté pan over low heat. Place the duck breasts skin side down in the pan. Gently render the fat from the breasts, pouring the fat into a container as it renders.
2. When the skin is completely rendered and crispy (about 15 minutes), turn the breasts over and place the pan in the preheated oven for 5-7 minutes for medium rare.
3. Slice the breasts and spoon the chutney over the duck.
Homemade Strawberry Jam  
Easy to do and nothing tastes better than homemade!
2 cups of sugar
1 large lemon, zested and juiced
4 cups of strawberries, hulled and sliced
1. Combine the sugar, lemon zest, and lemon juice in a small saucepan and cook over very low heat for 10 minutes, until the sugar is dissolved.
2. Add the strawberries and continue to cook over very low heat for 20 minutes, until the strawberries release some of their juices and the mixture boils slowly. Cook until a small amount of the juice gels on a very cold plate. (I keep one in the freezer.)
3. Pour carefully into 2 pint canning jars and either seal or keep refrigerated. Use immediately, or follow proper canning guidelines.