Permanent link
04/11/2012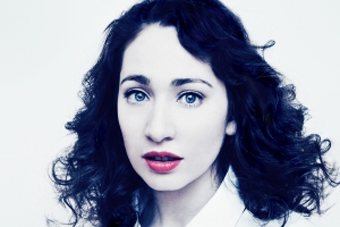 As soon as I heard her music around six or seven years ago, I knew Regina Spektor would become one of my favorite musicians. I had never heard anyone like her before, and was absolutely captivated by the beauty of her storytelling and piano-playing.
At the time, Spektor was not yet in the mainstream music world. If people knew about her, it was most likely because they were fans of The Strokes – the band for whom Spektor had been the opening act on the Room on Fire tour.
My own journey to discovering Spektor's music was quite random – I hadn't been listening to The Strokes, but a friend of mine was a huge fan. She asked me if I had ever heard of Spektor (I hadn't) and I asked why I would have. As it turned out, Spektor and I had a lot in common – from physical attributes to the Russian-Jewish immigrant story, not to mention that I also played the piano. (To this day, I joke that if God had gifted me with a singing voice, I would be giving Spektor a run for her money.)
As the years went by and I kept listening to Spektor's music (which I couldn't stop playing on repeat), I started reading her interviews. What struck me even more than her talent for quirky yet beautiful song writing, was the pride in which she spoke about her background as a Russian-Jewish immigrant.
Spektor never changed her name to make it more Americanized (granted, it wasn't too difficult to pronounce in the first place, but a quick online search will reveal how many famous people have changed their names, and other personal details, to whitewash their cultural heritage.) She embraces her family's history, her own history, and is not afraid to speak proudly about being Jewish or facing anti-Semitism. She is not afraid to say that she supports Israel. That's what I love about Spektor – that she is both an artist worth hearing and a person worth listening to.
Yet she never imposes or forces her beliefs on her listeners. Spektor's music isn't about her personal experiences or her religious or political beliefs – her songs are simply stories set to lyrical melodies, and spiced with her sense of humor. Yes, there are many literary, cultural and even religious allusions – but I would say that they are more for imagery than for anything else. Her songs are not political, and that is why I think Spektor is embraced by such a variety of people.
Of all her songs, I can truly think of one that could be construed as political or as genuinely expressive of Spektor's own beliefs, and it isn't kind to Holocaust deniers. It is called "Ink Stains" and the words are so heavy that I don't even feel comfortable pasting them all here. If you want to talk about powerful lyrics, there's no better example: You who accuse the dying of lying/You can't tell fake from honest crying/Argentina steakhouse, Swiss Bank gold card/Aren't going to help you where you're going at.
As a Russian-Jewish immigrant, I could not be more proud and grateful that there is someone out there like Spektor – a brilliant musician who is proud of who she truly is, and still sells out Radio City Music Hall. Just recently, she performed a benefit concert for the 100th anniversary of HIAS, or Hebrew Immigrant Aid Society, in New York, and vh1 recently named her one of the 100 Greatest Women in Music.
I am so appreciative of Spektor's voice, the musical one and the personal one, and am extremely glad to see her receive the success the she deserves.
JTA recently wrote an article about Spektor, called "Amid mainstream success, Regina Spektor stays true to Jewish roots." To me, that headline sums it up perfectly.
Oh, and on a side note: a few months after meeting Spektor at a record store several years ago, I found out that one of my relatives is very close with her aunt. Small world!