Permanent link
04/01/2015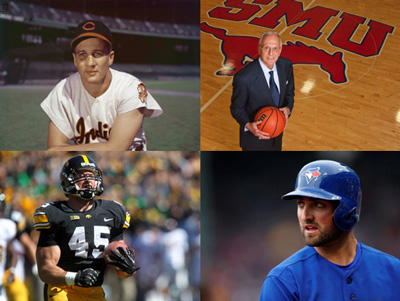 Every year at the NCAA Men's Basketball Tournament, Jewish basketball coaches get together to give out the Red Auerbach Best Coach Award. This year's nominees include: Larry Brown, Southern Methodist University; Steve DeMeo, Northwest Florida State College; Scott Garson, The College of Idaho; Matt Gordon, Phoenix College; Larry Shyatt, University of Wyoming. Congrats to all the nominees.
Speaking of the NCAA, former Duke Blue Devil and Chicago native Jon Scheyer has found his way back to the Final Four, this time an assistant coach. And while he did not make the tournament, Auburn coach Bruce Pearl has received glowing praise after turning around the school's basketball program. Auburn made a late run, but of course ran into the mighty Kentucky Wildcats.
In baseball news, one of Jewish baseball's all-time greats, Al Rosen, passed away. Rosen played for the Cleveland Indians; he was a four-time All Star and the 1953 American League MVP. The Indians will honor Rosen all season by wearing a #7 patch.
On a lighter note, Toronto Blue Jays player Kevin Pillar injured himself sneezing. The incident was made famous when Jimmy Fallon poked fun at the injury on The Tonight Show. But the joke is on everyone, as Pillar will finally be an opening day starter.
Jewish baseball-lovers will also be happy to hear that Jason Marquis has made it back to the Bigs after what could've been career-threatening surgery. He will be in the Cincinnati Reds' starting rotation. Meanwhile, Joc Pederson is second in home runs in all of Spring Training with six. He is not only making his case to make the team, but probably beat out veteran Andre Ethier as the starter.
Finally, as we prepare for the NHL playoffs and MLB Opening Day, the NFL Draft is around the corner. Iowa running back Mark Weisman's draft stock has risen and there's hope that he will be a late round pick. Good luck to Weisman!