Permanent link
03/26/2014
Most weeks when I am menu-planning, the main dishes always come easy. However, when I get to pairing the main entrees with side dishes, I find myself scratching my head.
I try and stay away from more than one carb-based side dish, and lately hubby has been asking me steer clear of those altogether. So I have had to get creative with my sides.
One day, hubs mentioned he wanted more beans in his diet. Having exhausted every baked bean recipe I knew, I decided to think globally. I do not exactly recall what triggered Greek thoughts in my head, but for some reason that's where I went.
I recalled a summer way back when we were without child and crazy responsibilities and we got on my hubby's motorcycle at 10 p.m. and sped to downtown Chicago to go to Greektown, an area in Chitown that is always awake, bustling with people trying to get their post-clubbing gyros, Greek music billowing out of the open taverna-style restaurants.
Hubs and I always loved going to Greektown on the motorcycle to sneak in some late night Greek-style fries with feta crumbles and a cafe frappe. The ambiance always made you feel alive. We would hang out there for hours, chatting, listening to music and sipping our frappes.
One of the many times we were there, they brought out gigantes plaki for us to pair with our chicken souvlaki instead of our Greek fries. Hubs was ready to send them back when I stopped him and said that we should try something different.
"Beans instead of fries? Are you nuts?" My hubby asked me. We both lifted the fork to our mouths and were instantly pleased we went with the beans instead. They were huge and covered in a tomato sauce infused with oregano and topped with feta.
"Make these for me!" Hubs said. And I did – six years later.
The best part about them is how easy they are to make.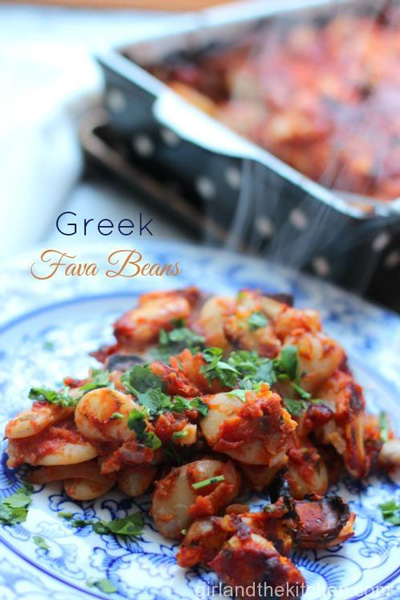 Greek Taverna-Style Fava Beans
From Girl and The Kitchen
Ingredients
1 pound Gigantes, elephant or fava beans
1 28 oz can crushed tomatoes 
5 garlic cloves minced
2 onions finely diced or shredded on the microplaner 
2 tablespoons tomato paste
2 tbsp olive oil
Feta cheese crumbles to use as topping
Parsley
Salt and pepper to taste
Instructions
1. First soak the beans overnight by placing them in a large pot and completely covering with water. The pot needs to be large because the beans will expand. Drain the beans and rinse them once ready to use.
2. Fill the pot back up with water and turn the heat on high. Drain and rinse the beans and boil in water for about 40 minutes to an hour, until they are soft but not mushy. It's super important you boil them long enough; otherwise the beans will be too hard to eat despite baking them.
3. Preheat your oven to 350-degrees.
4. In the meantime make the sauce by pureeing onion in a Vitamix or shredding on a microplaner. I prefer it if the onions sort of melt into the sauce. Do the same for the garlic.
5. Sweat the onion along with the garlic in some live oil until fragrant.
6. Add the pureed tomatoes, tomato paste, parsley and oregano. Taste for seasoning.
7. Let it simmer until sauce thickens, about 15 minutes.
8. Once the beans are cooked to the proper texture, drain them.
9. Add the beans to the pot with the sauce and toss to coat.
10. Lightly coat an oven proof baking dish with oil or pan spray and place saucy beans into the pan.
11. Cover with foil and place to bake in the oven for about 40 minutes.
12. Once beans are tender, remove the foil and let the tops caramelize a bit.
13. Top with parsley and some crumbled feta.