Permanent link
03/16/2015
I've recently learned that many of my friends — including my soon-to-be husband — have spent more time traveling abroad than within the United States. As kids, they spent summers and winter breaks exploring London, Paris, Peru, and Morocco, but have never been to Seattle or New Orleans.
As someone who, outside the U.S., has only ever traveled to Israel, Poland, Canada, and Mexico, I am in awe of these world travelers. I look forward to many years of exploring what our planet has to offer, near and far.
But for those of you who have the travel bug but haven't yet visited the depths of the USA: What are you waiting for? Our country is beautiful, diverse, and full of history and culture. You don't need a passport or a different kind of currency to go on wild adventures.
If you're traveling domestically, then, here are my top 10 local destinations.
1. New Orleans, Louisiana. I love the feel of the culture here — it's a little southern but also uniquely Cajun. There are musicians playing jazz in the streets, there's a Voodoo Museum, the little shops are adorable, and even though I've sworn off of doughnuts, I'll make an exception for the amazing beignets. Even after Hurricane Katrina, the culture is still strong, and it's been so meaningful for me to help rebuild post-hurricane on my three trips there.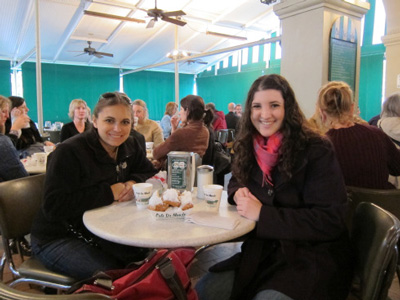 2. Sanibel Island, Florida. She may sell sea shells by the sea shore, but YOU can experience millions of the beautiful shells in sunny southern Florida. This quaint town is beautiful and romantic, known for its seashells and vacation atmosphere. 
3. Seattle, Washington. Seattle is a fun, hip town full of diverse neighborhoods and quirky things to see. And if you love rain, you'll fit right in! There are food markets, a chocolate factory tour, amazing hikes, and a troll under a bridge. Plus, it's a short ride to Vancouver, Canada — one of my favorite destinations outside of the U.S.! 
4. Charleston, South Carolina. Charleston is probably the most unique city I've visited in this fine country of ours. It feels like you're walking through a time capsule of the Civil War era, filled with southern mansions with gas lanterns and cobblestone streets with horse-drawn carriages. The locals love their city and are so excited to show it off to visitors. Plus, you can visit the oldest remaining Reform synagogue in the United States! 
5. Sedona, Arizona. Beautiful multicolored mountains are the backdrop for this small, spiritual town in sunny Arizona. My friends and I loved hiking, horseback riding, and Jeep touring on the cactus-lined terrain. It's known for spiritual vortices — and though I'm not sure we found deeper spiritual meaning, we sure loved the sun and the scenery. 
6. Saugatuck/Holland/South Haven, Michigan; and Indiana Dunes, Indiana. I listed a lot of cities here, but Adam and I visited these places all on one trip. The hiking in the Indiana Dunes was so beautiful (and full of many hills and stairs … my calf muscles still haven't fully recovered), and I think we Chicagoans forget how close this gem really is. South Haven is an idyllic little town with great beaches, cute shops, and a beautiful lighthouse. Holland is like a little local piece of the Netherlands, complete with a windmill, a tulip festival, and wooden shoes. Saugatuck was lovely, an art lover's dream, filled with art galleries, gift shops, and beautiful beaches. 
7. Starved Rock and Matthiessen State Park, Illinois. Friends, you don't even have to leave Illinois for a great getaway. The hiking and scenery in Starved Rock and Matthiessen State Park were fantastic — and oh so local! Many of us know of Starved Rock, but Matthiessen State Park is a lesser-known find, filled with beautiful waterfalls.
8. Washington, D.C. I've often said that if I didn't live in Chicago, I'd love to live in D.C. In addition to the thrill of being in the center of our nation's government (I assume that any person who walks by in a suit is a member of Congress), I think the neighborhoods are great to explore and the vibe is so much fun. I just feel smart when I'm there. The museums are free, the food is great, and, let's be real, any place that houses the Ruby Slippers is like home to me. 
9. New York, New York. Okay, okay, I'll include New York on this list. It's no Chicago, but it's certainly an experience. The Broadway plays, the restaurants, the museums, the neighborhoods, the cupcakes, the studio tours, the Highline, the frozen hot chocolate — it is a fantastic place to visit. Plus, I recently visited Brooklyn, and it's adorable — who knew?? 
10. San Francisco, California. I loved visiting San Francisco, even for a short visit as part of my USY on Wheels teen tour (and somehow I forgot to wear some flowers in my hair). It feels straight out of the 1960s with hippies on Haight Ashbury, and I loved visiting the steep and curvy Lombard Street, plus Ghiradelli Square and Alcatraz. I definitely want to go back for a longer trip. 
Honorable mentions to Minneapolis, Philadelphia, Pittsburgh, St. Louis, San Diego, San Antonio, Ft. Lauderdale, Birmingham, Breckenridge, Niagara Falls, Lake Geneva, Atlanta, Boston, and Madison, all of which I also enjoyed.
If you're planning on visiting any of these places, I'd be happy to share my recommendations; and if you have ideas for other places that you loved in our great country, I can't wait to visit them, too.
God Bless America! Play ball!